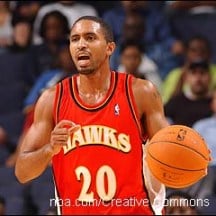 There's a great interview in The Atlanta Journal-Constitution with Atlanta Hawks Guard Salim Stoudamire about why he went vegan. The interview's been doing the rounds of the basketball blogosphere, and I came across a nice little piece about it today in one of my favorite basketball blogs, True Hoop, which you can read here. In the interview, Salim talks about the health benefits he's experienced since switching to a vegan diet, but I was excited to see that he had a little shout out for the animals he's helping out with his diet too:
"I don't think you should eat something that had a mother. I don't think that's right."
It's always great to see professional athletes talking about veganism, because they're great examples to point to when people have questions about whether a vegan diet is healthy. As Salim says, "My endurance has gone up, and I haven't gotten tired at all during the whole season." Which is a pretty ringing endorsement if you ask me—as is this little move he puts on the Grizzlies' Mike Miller. That's what you get when you try to take a take a vegan to the hole, Grizzlies. Salim, you're a badass.