What do you get when you cross a chicken with a Vegas showgirl? Cupcake Chicks! PETA staffers Ashley Byrne and Amber TeGantvoort took up position near the White House to hand out yummy vegan cupcakes from Sticky Fingers Bakery and let people know that there's a tasty way to beat the salmonella outbreak. The proof is in the pudding, er, cupcake, and judging from the speed with which the confections disappeared, I think it's safe to say that we proved our point.
The combination of a woman with a beak on her forehead and a tray of cupcakes in her hands proved irresistible.
Tourists ate up our sweet little cupcakes.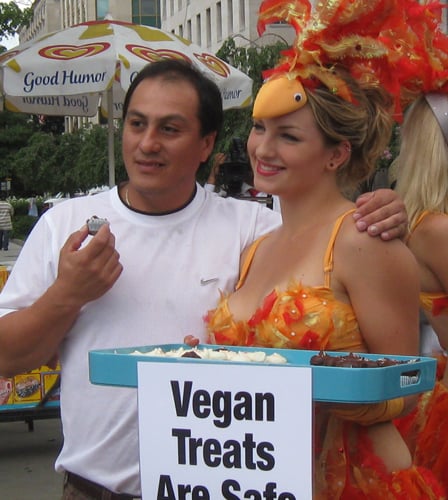 Working on the city's infrastructure sure does work up an appetite for a sweet treat—and a
vegetarian/vegan starter kit
.
Written by Alisa Mullins