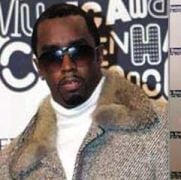 Diddy flaunting his dead animal coat
When Diddy promised to remove the raccoon dog fur coats which were mislabeled as "faux" from his store and stop production of the cruel garments, some people began to think that the rapper might actually care about something other than bling. Now it appears that they might have jumped the gun …
According to the New York Post, as of Christmas Eve, Diddy still had yet to take the dog-fur coats off the racks of his Fifth Avenue flagship store:
Combs promised the Humane Society on Friday that the winter jacket adorned with the fur of the canine species known as raccoon-dog was being pulled from his Sean John line, and vowed that, in the future, the garment would be made with faux fur only.

"I was completely unaware of the nature of this material, but as soon as we were alerted, the garments were pulled off the Macy's floor and Web site," Combs said in a statement through his publicist, Hampton Carney.

"I have instructed our outerwear licensee [G-III Apparel] to cease the production of any garments using this material immediately."

But the $280 snorkel coats were still on display in the windows and on the racks at his Fifth Avenue flagship.

And the coats were still erroneously labeled as made with raccoon fur – not that of the strange-looking dog.

Macy's did pull the coats from its stores and Web site. The retailer had compounded the controversy by erroneously tagging the coats as containing "faux" fur.

Even Combs' store employees were confused, first saying the fur was coyote, then rabbit.
What's next Diddy, kitten-trim earmuffs?