In a move that would have made horror film legend Vincent Price proud, PETA's "zombies" haunted patrons at Jeff Ruby's Steakhouse in Cincinnati yesterday, just in time for Halloween.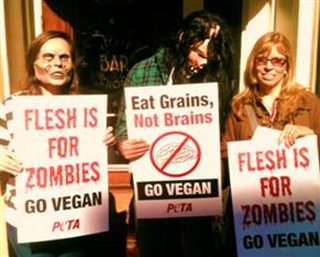 Our enlightened undead let everyone know that flesh is for zombies and advised them to "eat grains, not brains." Many flesh-eaters used their brrrrraaaaaiiiiins and got information about going vegetarian or vegan.
If even zombies are urging people to bury their meat habit, you know that the stuff is gross. For meals that will bring your taste buds back to life, check out our hundreds of tasty meatless recipes.
Written by Michelle Kretzer