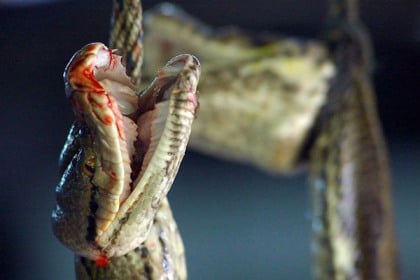 Last week, Swiss TV network Schweizer Fernsehen (SF) aired a report (in German) showing the results of an investigation that exposed the cruelty of the exotic-skins export trade in Indonesia. Viewers learned that lizards are transported to slaughter by being tied up and stuffed inside plastic bags (where they may remain for days), that snakes suffer in agony as they are skinned alive, and that other reptiles are bludgeoned with hammers.
Anyone who's seen our exotic-skins video narrated by Joaquin Phoenix is already familiar with the misery inflicted on reptiles who are hunted and killed for their skins, but we're thrilled that SF broadcast this report. Although Switzerland is a relatively small nation, its watch industry has been a major buyer of exotic skins, so let's hope that this shocking footage—plus the notable concern of the Swiss for animal rights—will cause a new boom in sales of cruelty-free watchbands!
Of course, watchbands aren't the only products made from exotic skins. Click here to send a message urging designer Jimmy Choo to ditch exotic skins from future collections.
Written by Jeff Mackey