In an essay posted today on The Huffington Post, PETA President Ingrid E. Newkirk talks about the progress being made in behalf of chimpanzees in laboratories and posits that great apes appear to have at long last reached a turning point with the introduction of the Great Ape Protection and Cost Savings Act, which would phase out all invasive experiments on great apes and mandate the retirement to sanctuaries of all 500 chimpanzees currently held in federally funded laboratories.
"These chimpanzees, hundreds of them, have been alone all those decades: no mate, no child, no friend to comfort them, to help them get through the pain of whatever experiment they are being subjected to," writes Ingrid. "Being possessed of the ability to anticipate, they could only dread the next ordeal―a lung biopsy, perhaps, an injection, an infection―who knows? They don't."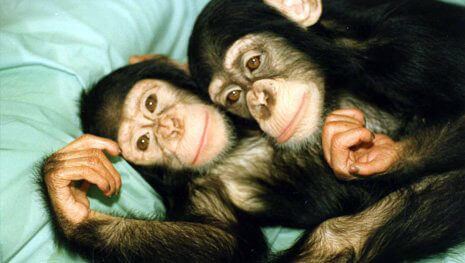 Ingrid notes how far chimpanzees have come since she attended a symposium on alternatives to animal experiments 30 years ago at which a famous chimpanzee experimenter, Dr. Alfred Prince, was labeled a turncoat by many of his colleagues for proposing a "Chimpanzee Bill of Rights" that proposed the then-radical idea that chimpanzees should be treated as more than test tubes with opposable thumbs.
"After Dr. Prince spoke, there was much mumbling and foot-shuffling in the auditorium," writes Ingrid. "Then, a red-faced scientist stood up and screamed―not spoke but screamed―that any talk of affording chimpanzees rights was nonsense. He was beside himself with rage as he accused anyone who cared about animals as using 'solely emotional arguments.' I stood up to say that there's nothing wrong (in fact there's often everything right) with being moved by the plight of others―for those who can't empathize include sociopaths―but I really didn't need to open my mouth. The irony of his fiercely emotional outburst said it all. I drove home thinking, 'It's started.' But look how long the journey has taken!"
"Animal liberation was once a wonderful dream, but now, starting with the chimpanzees, it is beginning to happen. Let's wish the other animals the best in winning their future freedom, too, and celebrate the eventual end of our role as their masters."
To read Ingrid's essay in its entirety, visit HuffingtonPost.com.

Written by Alisa Mullins