wildlifedepartment / CC
Hopefully, young hunters such as this one will be banned from hunting in Pennsylvania.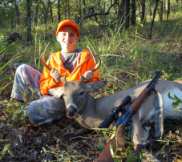 Last Friday, an 11-year-old Wampum, Pennsylvania, boy allegedly picked up his youth-model 20-gauge shotgun and shot his father's pregnant girlfriend as she slept. The boy, Jordan Brown, had received the gun as a Christmas gift from his father, who was reportedly teaching the child to hunt in the woods surrounding their rural home.
This wouldn't be the first time that a kid who had been schooled in the ways of snuffing out wildlife turned his gun on another human being—and it almost certainly won't be the last. Remember 13-year-old Mitchell Johnson and 11-year-old Andrew Golden of Jonesboro, Arkansas? In 1998, they took the hunting guns belonging to Andrew's grandfather—who had taught Andrew to hunt—and used them to ambush their fellow students, killing four girls and one teacher. In her book, Rampage: The Social Roots of School Shootings, Katherine Newman writes that the young killers "dressed in camouflage clothing, exactly as Andrew did when he went hunting. … From across the field, their classmates and teachers seemed less like the human beings they went to school with than like quarry to be killed."
In 2006, the Pennsylvania Game Commission announced the creation of the Mentored Youth Hunting Program, "to encourage more young people to take up hunting to increase hunter numbers." In the wake of last week's tragic shooting, we've written to the governor of Pennsylvania, urging him to ban all hunting by children under the age of 18. You can read our letter here.
Not everyone who stalks and kills animals will stalk and kill a human. But every time a person picks up a gun, aims it at another living being, and fires, it must deaden a piece of his or her heart. Children have a natural affinity for animals, yet we hand them guns and teach them to be killers. Can we be surprised, then, when these children direct that violence at others?
Written by Paula Moore