Question: Why are we obsessed with Turkish pop legend Tarkan? Answer: Deemed the "Prince of Pop" and the Turkish Elvis, the international musical phenomenon is also a friend to animals. He took time out of his hectic schedule to pose with Penny, a PETA staff member's rescued pooch, and to urge people to help control the animal overpopulation crisis by having their animal companions spayed or neutered. Check out his new ad and an interview he did with PETA Germany: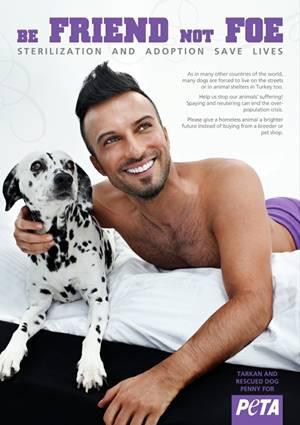 When did PETA first enter your life?
During the promotional tour for my album Come Closer, PETA reached out to me to voice feelings about my wearing a fur coat on the album cover. Having been an animal lover since childhood, this instance when I was pictured wearing fur on the cover of my album was truly a regrettable one. On the day of my album's cover shoot, we tested many looks, one of which happened to include a coat with fur accents. The pictures ended up being used as the album's cover artwork. In hindsight, I wish I had never worn the coat—but I am also a believer that everything in life happens for a reason. Because of that mistake, PETA and I crossed paths, joined forces, and are now working together to protect animal rights worldwide. Once all the unimaginable circumstances being suffered by helpless animals were brought to my attention and I saw footage portraying the horrible pain that animals were enduring for the sake of fashion, I immediately swore off fur.
What do you think of PETA?
I am happy to be supporting PETA—an organization that's fighting for animal rights worldwide. PETA's relentless efforts to protect the well-being of animals around the world is a cause that is very important to me.
How do you think we can make animals' lives better? Do you think that the existing campaigns are enough?
I am fortunate enough to be able to use my celebrity to draw attention to PETA and to encourage my fans to join the animal rights movement. I feel it is up to all of us to take a stand as consumers and choose a cruelty-free lifestyle. Once we stop encouraging industries that are making a profit at the expense of animals, we will end the demand and make a change for animals worldwide.
Do you think that celebrities are doing enough to protect the rights of animals in Turkey?
There have been many celebrities in Turkey who have spoken out for animal rights, including my dear friend, Sezen Aksu, who is both an animal lover and an activist. I hope that with this campaign, more of my colleagues, friends, and fans will be inspired to voice their support for animal rights.
How did you find your dogs?
Over the last few years, I have rescued approximately a dozen dogs from the streets of Turkey. Some were brought to me by friends, and some have even shown up at my doorstep looking for a home. They have brought me endless joy, and I treasure their unconditional love.
How many dogs do you have, and where do they live?
I currently have four dogs (all rescued), named Efe, Carmella, Johnita, and Jackie. They all live with me at my ranch just outside Istanbul.
Do you have a favorite among them? Why?
I love all my dogs, as each has his or her own unique character. But Johnita is very special to me—she is the one who never leaves my side, no matter what.
Tell us a story about you and one of your dogs.
I used to have a dog named Efe, who I loved—and who passed away. Just a week later, a stray dog who almost identically resembled Efe showed up at my doorstep. I immediately welcomed him into my family and named him Efe as well.
How is your life nowadays? What is the latest with you?
I am currently in the studio working on my new album. In my free time, I like to work with many nonprofit organizations such as DoÄŸa DerneÄŸi (Nature Foundation), UNICEF, the Make-A-Wish Foundation, and more, to use my voice for change. But most of all, I am happy to be able to come home to my loving companions at the end of a long day at the studio.
Written by Logan Scherer