Europe's biggest turkey killer, Bernard Matthews, is back in the news. And oddly enough, this time it's not because their workers were filmed kicking birds and using pipes as baseball bats to hit them, but because government veterinarians have confirmed bird flu at a poultry farm in the UK.
So my friends Anita and Lucy at PETA Europe jumped into action and have been doing these "biohazard" demonstrations outside grocery stores in London to let the public know that there is a simple solution to this whole bird flu mess. Here are a couple of pics from yesterday's demo.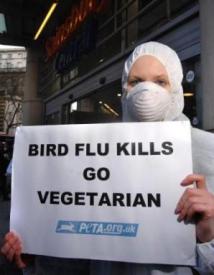 Sadly, it looks like it was a little too late for this guy, who was already a bit too far gone.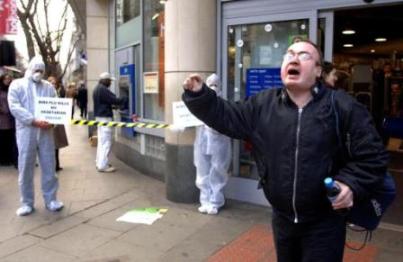 Not to get all doomsday on you, but even our very own US Health and Human Services Secretary Michael Leavitt called the likelihood of an influenza pandemic "very high, some say even certain." Yes, bird flu is serious problem and all that, but it just seems like such a simple choice to me: we can either run around in these absurd looking masks all the time like these people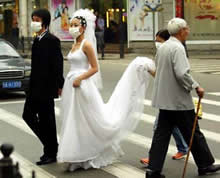 Or we can go vegetarian. Tofu anyone?