Update: Even though the town has said "No" to this bull run, the organizer is still planning on having the bull run on private land, despite the public outcry calling for the run to be canceled.
Hats off to officials in the Arizona town of Cave Creek for revoking a permit sanctioning a bull run when the organizers failed to procure sufficient insurance coverage. This may be enough to stop the event, since it means that liability for any injuries now becomes the responsibility of the promoter and the owner of the local ranch where the run is supposed to take place.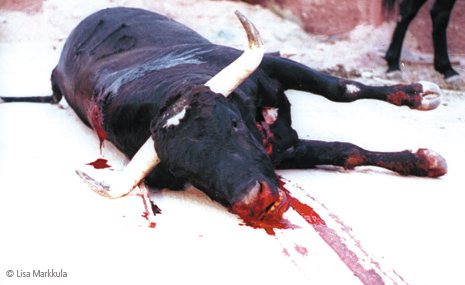 In Pamplona, the bull runs end in cruel bullfights.
PETA had contacted the mayor and town council and let them know that modeling an event after Pamplona's annual bull run would be cruel and unsafe. Bulls would be antagonized into racing at breakneck speed, which would put them as well as participants and spectators at risk.
Please thank Cave Creek officials for taking public safety and cruelty to animals seriously.
Written by Jennifer O'Connor