The following is a guest post from PETA fieldworker Misty Collins.
This is the story of my friend Tripp. A sweet, gentle golden retriever, Tripp was easy to love, yet he spent most of his life feeling lonely, lacking the affection that he so desperately needed.
Banished to a junk-filled backyard, Tripp spent every moment of every day outside. At the age of 16, he had endured a lifetime of bitter winters and scorching summers. By the time we discovered him during one of our routine straw deliveries, years of lying on frozen ground had taken their toll, and he was stiff and arthritic. He was going deaf and blind, and his frail body was riddled with softball-sized tumors. His owners refused to relinquish him, so I returned again and again to check on him and give him clean bedding, treats, and, most importantly, the love and companionship that he so desperately desired.
Just a few weeks ago, I made my final visit to see Tripp. When I arrived, he was nowhere to be found. Trudging though the junk-filled yard, I climbed over scraps of splintering wood, rusty nails, jagged pieces of metal, and other dangerous debris. Following a trail of swarming flies and puddles of diarrhea, I found Tripp behind the garage—curled up and unresponsive.
Lying in garbage, Tripp's tumors bulged on his emaciated frame.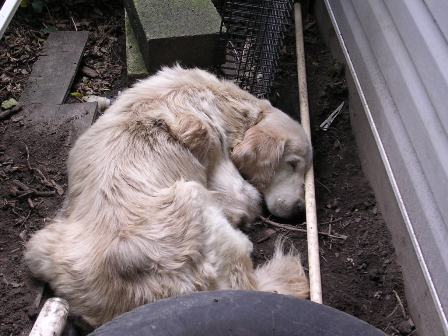 He went back there to be alone and die. Dogs do that. Can you imaging being deaf, blind, and covered in cancerous tumors and spending your last days in a trash pile surrounded by flies waiting for you to die? In tears, I begged his owners to let me take him and give him a dignified death. They finally relented, and I gently shook the old boy awake and helped him into my truck.
Back at PETA headquarters, I was determined to help my friend live the last day of his life as he should have been allowed to live every single day of his life—rolling in the fresh grass and receiving lots of love, attention, and belly rubs.
Tripp's last day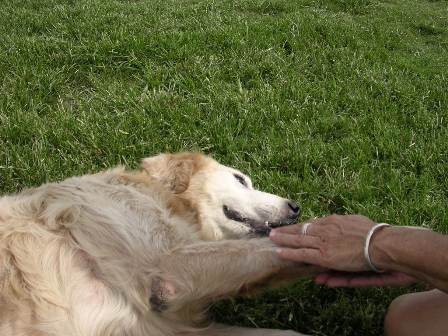 Barely able to stand, he ate his last meal. Later, I held him and stroked him gently as he quietly passed away. I was honored to be with him during his last moments in a world that had never loved him. And though he spent most of his life thrown away and forgotten in that miserable backyard, I will never forget Tripp as long as I live.
Written by Misty Collins