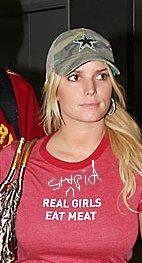 The photo speaks for itself. OK, OK, I may have doctored it a bit to get the point across, but COME ON! As you can see, Jessica Simpson was recently caught wearing a "Real Girls Eat Meat" T-shirt. Puhleeze!
For a gal who's best known for her less-than-stellar brains (Chicken of the Sea, anyone?) and her ability to proportionately fill out daisy dukes, I'm gonna go on record saying that if anyone had to wear a ridiculous shirt like this, I'm glad it was Jessica—as people are more likely to follow the opposite of her lead … ya know, since she's so well respected and all (yes, that was difficult to type without tossing in a hefty LOL). Maybe the meat-eaters of the world will be embarrassed to be categorized in the same field as Jessica Simpson. Ecorazzi has more on the story.
Just for funsies, here are the top five reasons that only stupid girls brag about eating meat:
1. Meat increases the risk of breast cancer.
A 2007 study of 35,000 women published in the British Journal of Cancer found that women who ate meat were far more likely to develop breast cancer than women who consumed none. Will Jessica's next t-shirt will say, "Real Girls Smoke 3 Packs a Day"?
2. Real girls don't support animal abuse.
Compassion is super sexy
, if the huge number of hot celebs ditching meat is any indication. Young women turn vegetarian in droves when they learn that the meat industry cuts the sensitive beaks off newborn chicks and cuts off the tails of baby piglets.
3. The meat industry is destroying the Earth.
The only thing that's hot about the meat industry is that it's
toasting the planet
. According to the United Nations, raising animals for food causes more greenhouse-gas emissions than all the cars, trucks, SUVs, planes, and ships in the world
combined.
4. Meat will make you fat.
All the saturated fat and cholesterol in chicken wings, pork chops, and steak eventually leads to
flabby thighs and love handles
. I hope the upcoming "Jessica Simpson's Intimates" line comes in plus sizes! Going vegetarian is the best way to get slim and stay that way.
5. Eating meat steals food from starving kids.
Jessica's trip to help kids in Africa got a lot of media buzz, but by gnawing on meat, she's essentially stealing food from the mouths of starving children since it takes up to 16 pounds of grain to produce just 1 pound of meat. If more people went vegetarian, we'd free up enough grain to feed every person in the world. —ChristinePosted by Christine Dore