Award-winning chef Amanda Cohen can add another notch to her (cruelty-free) lipstick case: Her not-so-sinfully delicious Mushroom Mousse has won the top prize of $10,000 in PETA's Fine Faux Foie Gras Challenge. Cohen, who is a veteran of New York City vegan hot spots TeaNY, Angelica Kitchen, Pure Food and Wine, and Blossom Café, wowed the judges with her deceptively simple combination of puréed vegan margarine, onions, soy milk, and portobello mushrooms. "I really wanted to make something decadent," says Amanda. "I thought it would be fun to recreate that [foie gras] in a vegan version that didn't lose any flavor and could stand on its own."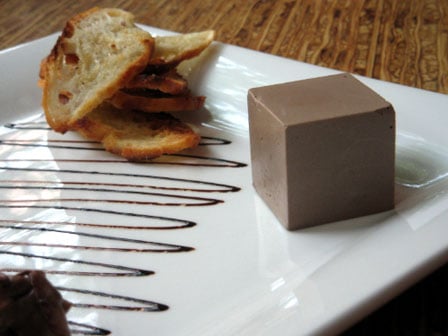 Yes, I think you could say that it stands on its own. And so do the second- and third-place vegan delicacies created by Eric Lechasseur from Seed in Venice, California, and Vincent Moellman from 50 Forks at the Art Institute of California in Santa Ana. I only wish I could say the same for the ducks and geese who are force-fed to make real (bad) foie gras, many of whom become so sick and debilitated that they can't even walk or stand.
If you can't get to Amanda's New York restaurant, Dirt Candy, to taste-test her mind-blowing Mushroom Mousse for yourself, you can find the recipe at PETA Living.
New Yorkers, if you've already tried Amanda's prize-winning concoction, please feel free to post your reviews below.
Written by Alisa Mullins