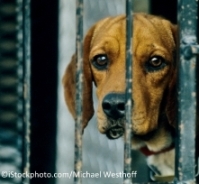 Congress is considering a bill to reform the way that this country tests and manages toxic chemicals, and PETA has submitted testimony.
Because the legislation seeks to require more chemical testing, it will lead to vastly increased suffering of animals in laboratories if it's passed. That's why it's vitally important that you tell your congressional representative to make sure that the final bill requires the use of modern, effective non-animal research methods and scraps cruel and archaic chemical tests on animals.
The Toxic Chemicals Safety Act, H.R. 5820, incorporates some major reforms. Even though the EPA has acknowledged that non-animal testing methods provide more accurate results, the current bill would force the agency to run plans to implement non-animal tests by a committee of government officials that is widely recognized as a major obstacle to the development and use of new non-animal methods in the U.S. We need reform, but it must be the right kind of reform—change that improves public safety and protects animals against unnecessary suffering.
Animals in laboratories have no time to lose—please speak up right now to save their lives!
Written by Jeff Mackey