The owner of an Iowa roadside zoo called "Cricket Hollow" has suffered wounds to his head and torso after being attacked by a tiger there. Cricket Hollow is no stranger to problems: PETA has previously filed complaints with the U.S. Department of Agriculture (USDA) and the local sheriff's department about filthy conditions and animals who were denied adequate water and shelter, and the unaccredited facility was recently issued an official warning by the USDA for repeatedly failing to provide animals with veterinary care and even clean, adequate, and safe shelter.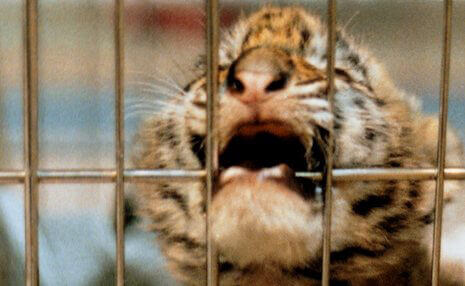 PETA routinely calls on all facilities with big cats, elephants, and orcas to adopt the protected-contact (PC) system, which means there is always a barrier between the animal and the handler. Zoos put animals and handlers at risk in free-contact systems. One recent example is the Knoxville Zoo, which was cited by the Tennessee Occupational Safety and Health Administration after a keeper was fatally injured by an elephant who had had enough of being "controlled" by a bullhook (the zoo quickly instituted PC for all elephants).
Cricket Hollow has also placed "free tiger" ads in a swapsheet called Animal Finder's Guide, which peddles exotic animals to dealers and exhibitors. The surge in private ownership of big cats has led to an increasing number of attacks.
Please never patronize a roadside zoo or private menagerie. And if your city or town allows people to keep exotic animals as pets, contact PETA's Action Team to learn how to start a campaign to end this dangerous practice.
Written by Jennifer O'Connor