For the 10th year in a row, peta2 is traveling the country with the largest rock concert event of the year, the Warped Tour. At each of the tour's 44 stops, the youth outreach concert crew is reaching thousands of young people with information about animal issues. We caught up with peta2's Paige Snyder to get the highlights from the road: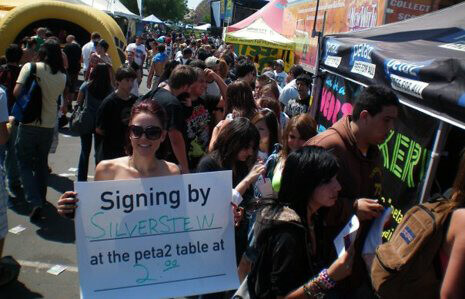 What are some of the most rewarding encounters you've had with people this year?
Each conversation we have with a young person is incredibly rewarding. Some of the best moments are when we meet young people who went vegetarian or vegan from meeting us in previous years and have come back to find us and share their stories. This kind of excitement and win for animals never gets old.
What are some interesting stories from the road?
We are always the go-to people when any animals are found on-site, and this year, we have rescued five baby birds and a puppy. The puppy was found in Ohio tied to a metal barricade by a 3-foot choke chain with no food or water in 100-degree heat. We also get to work with some really great bands like A Skylit Drive, D.R.U.G.S., and Terrible Things, who do meet and greets with their fans at our table.
How many young people has peta2 reached on this year's tour?
So far, we have collected 166,942 pledges to go vegan, given out almost 550,000 pieces of literature, and raised funds to support PETA's lifesaving programs—and we still have three shows left to go! peta2 has a lot to be proud of this summer!
******
To fund youth outreach programs such as the Warped Tour, PETA relies on donations from our members. Please make a donation today to effect change for animals now and in the future.
Written by Michelle Sherrow