1,000+ Fish Rescued During the Battle of Bakhmut
After receiving an unusual emergency call to save some 1,000 fish in the heavily contested Bakhmut region, Animal Rescue Kharkiv (ARK) geared up in protective vests and helmets and rushed to them.
The Global Compassion Fund–supported rescuers worked carefully to move the temperature-sensitive fish out of crowded tanks for safe transport.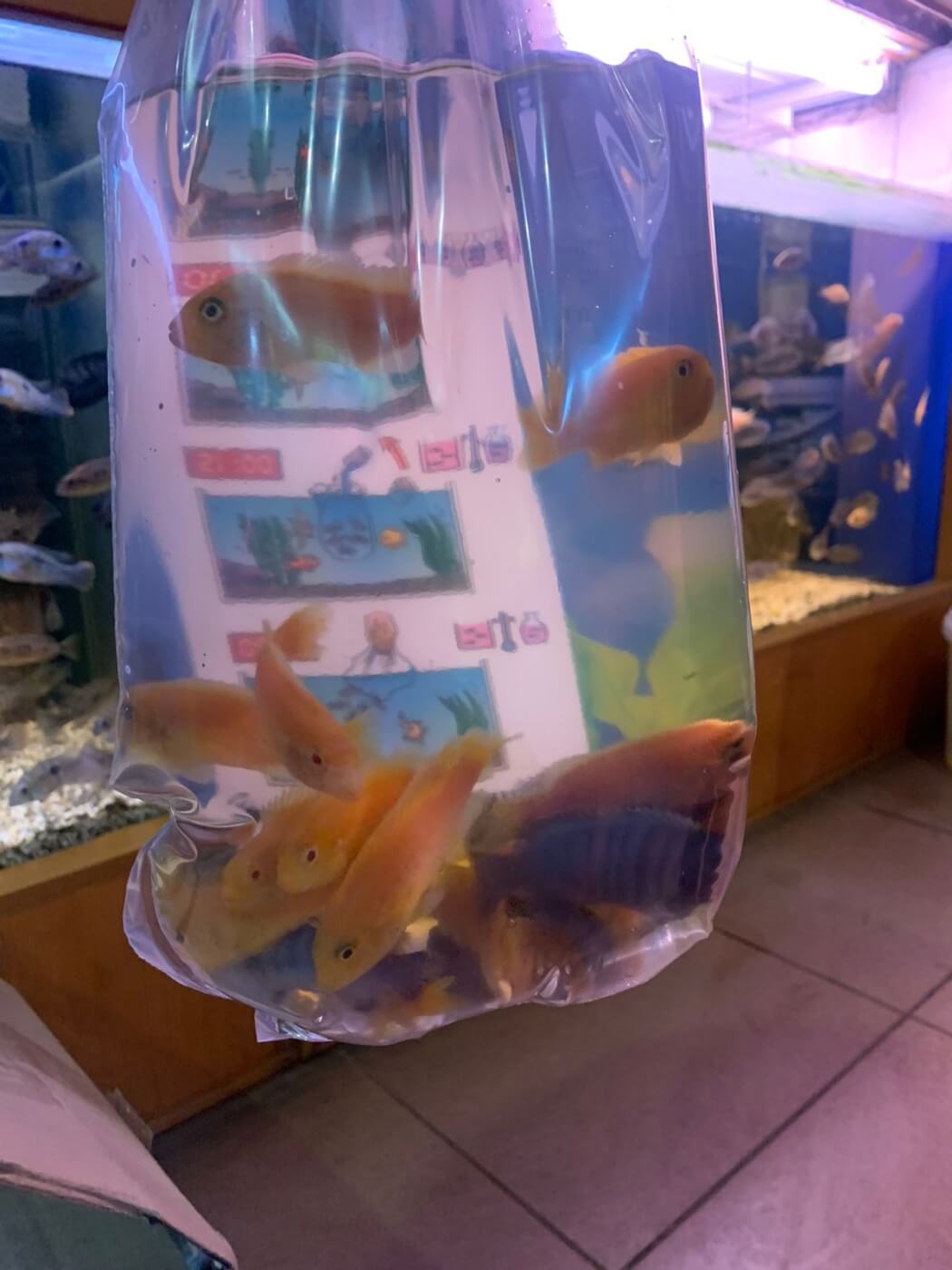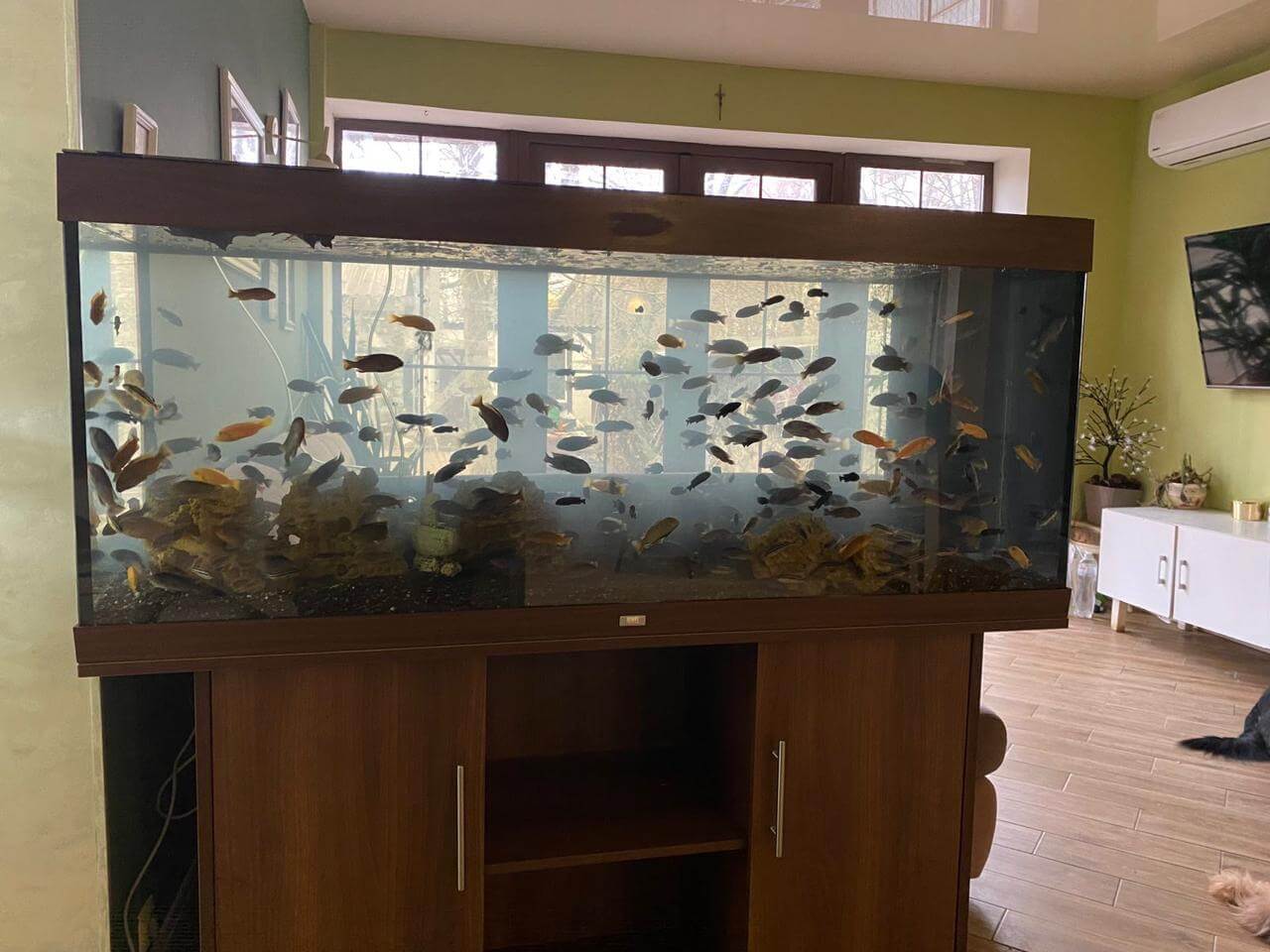 Now all the fish are swimming in roomy aquariums at a safe location, and PETA Germany and its partner ARK are working to persuade the farmer to give up fish breeding altogether. The team has offered him a job rescuing abandoned animals with them instead.
Archie and Anna Ride Into the Sunset Together
A dog arrived at the ARK clinic by way of a soldier named Andrew, who was fighting in Vovchansk near the Russian border. He had spotted the old, blind dog—later named Archie—wandering into heavy fighting, so he rushed to pull him out of the line of fire and guide him to base. The pair grew close, but eventually Andrew learned the brigade was leaving the area, so he took his pal to ARK, where he'd be safe.
The next day, like serendipity, Anna—who knew the Global Compassion Fund–supported team in Kharkiv was rescuing animals from the front lines—called the clinic and asked to adopt any animal who was least likely to find a loving home—and the rest is history.
Now Archie is the most popular member of Anna's pack. She has helped him regain partial vision in one eye by taking him to a special veterinary clinic, where the ophthalmologist inserted a special lens into the eye and is hopeful that the next surgery will fully restore its vision.
Andrew was fighting in Bakhmut when the team told him the wonderful news—which could not have come at a better time for his war-weary soul.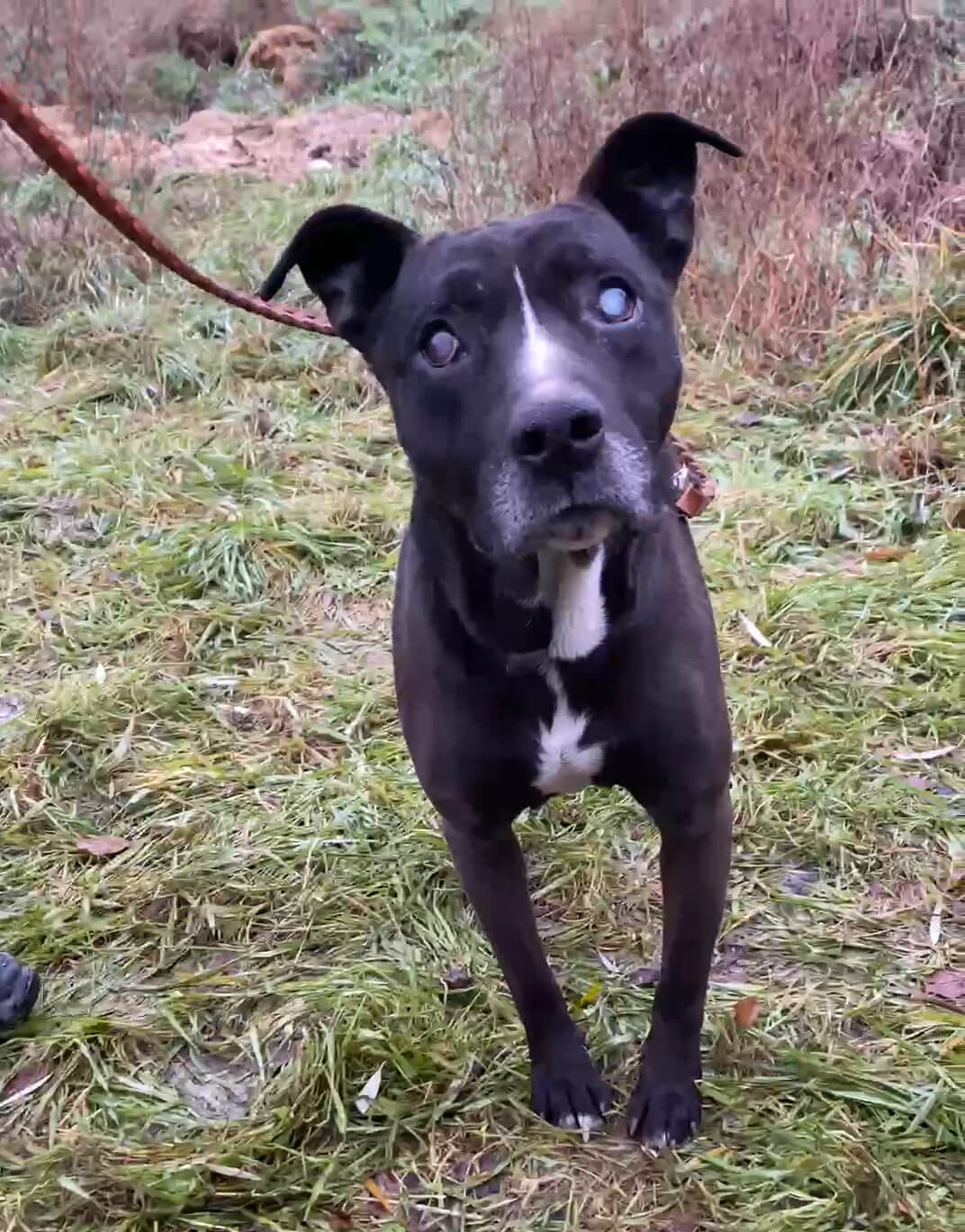 A Soldier's Best Friend
During one of the most difficult days of fighting in Bakhmut, a Ukrainian soldier, Oleksandr, found a dog in the middle of the battlefield. He immediately scooped him up, named him Vuyko, and took him to base.
But when Oleksandr returned to fighting, his fellow soldiers didn't offer Vuyko the same compassion and put him outside. Oleksandr discovered what had happened, raced to find the dog, and called ARK to come and help evacuate him.
The team of PETA–supported rescuers took Vuyko to the clinic, where he was given a clean bill of health and placed for adoption.
After Vuyko's new family learned that he would soon be arriving, they made him a comfortable bed and had a nice warm bowl of porridge waiting for him. Now the affectionate dog runs to his heart's content with his guardians' energetic granddaughter, who has fallen in love with him. She tells everyone at her school that her best friend is from Bakhmut, and they listen intently to her story of the brave soldier Oleksandr and how he rescued the beloved Vuyko.
How You Can Help Animals
PETA Germany and its partners' determination and grit have helped thousands of animals in Ukraine survive famine, injuries, and other traumatic experiences. PETA Germany's volunteers put their own safety on the line every day as they deliver food and veterinary care and transport animals out of the war zone. Global Compassion Fund donors make this work possible, and you can join the many who are helping animals in Romania, Turkey, Ukraine, and elsewhere by donating today!