Snake charmers, fairies, and leprechauns…if you thought all three only existed in the pages of fairytales, here's a surprise. Snake charmers have been and still are entrancing villagers into believing the myth that the sounds from their instrument can hypnotize a snake, who will "dance"—for money, of course.
Sound a little slippery? That's because it is. There is no magic involved, only cruelty. Here's how:
Snakes are trapped and taken from their natural habitats. Their teeth are yanked out without any painkillers, their mouths are often sewn shut (leaving a little gap to pour water or milk down), and their venom ducts are often pierced with a hot needle, causing the glands to burst and incapacitating this animals' most effective defense mechanism. None of the snakes lives very long, and death comes slowly and painfully.
The "dance" these snakes perform is actually a terrified reactive sway to the snake charmer's movements—as a means of self-defense from "attack" by the pipe. Snake charming is so violent, in fact, that the Indian Wildlife Act of 1972 actually banned it. But snake charmers show their disregard for the law and these animals by continuing their cruel ways.
With the upcoming holiday of Naga Panchami, which is held in honor of the Serpent God, PETA India decided to do a little charming of their own by releasing a brand-new ad urging people to boycott snake shows. The ad tells the story of a snake and a snake charmer, played by supermodel Jesse Randhawa and Hollywood/Bollywood dance instructor Sandip Soparrkar, and features the tagline "Snakes Are Not Natural Performers—We Are."
Jesse Randhawa and Sandip Soparrkar say, "Snakes Are Not Natural Performers—We Are," in a new PETA India ad.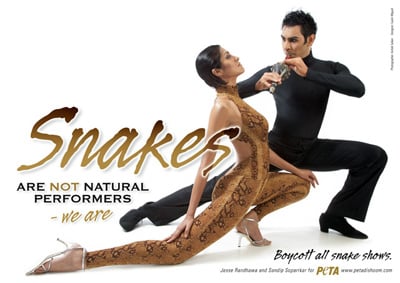 The ad sends out a great message to people in India. It points out that a country that has worshipped snakes throughout its history can't "honor" the reptiles with acts of cruelty. Check out PETA India's new mesmerizing ad here!