Animal activist Michelle Doers was reading Animal Times when she first learned about actor James Cromwell's arrest at the University of Wisconsin (UW) for protesting its heinous experiments on cats. That's when she remembered reading about something else in the PETA publication: a woman who wrapped her car in an ad to raise awareness about animal issues. So Michelle decided to turn her own car into a moving billboard for animals.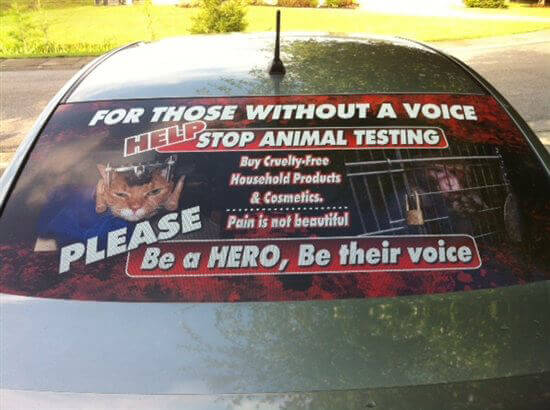 For the next two months, Michelle will be using her car to speak up for animals in laboratories and encouraging others to buy only cruelty-free home and beauty products. After that, she plans to change the wrap on her car seasonally. Her next message will encourage people to boycott Ringling Bros. for its abuse of elephants.
Another stellar activist and PETA supporter, Anne Feingold, helped coordinate a joint letter through her cat rescue organization that was signed by more than 150 cat advocacy and rescue organizations from nearly all 50 states. The letter, which unequivocally condemns UW's cruel experiments on cats, was sent to the leadership of the university as well as to the federal funding agency that enables this abuse. Anne also showed impressive initiative and dedication by contacting local media in Madison, Wisconsin, to alert them to her efforts.
Are you inspired by Michelle and Anne? Want to help animals from your computer and in your community? Join our Action Team! And if you're an activist younger than 21, check out peta2!