PETA Compassionate Action Awards are on their way to several people who came to the rescue of two dogs and one human during the recent floods in South Carolina. One award is going to the courageous Hall family, who saved 87-year-old George Osterhues and his dog, Tila, when floodwater filled their car and left them trapped. Tom Hall pulled Osterhues and Tila out through the car window, and all three were then dragged to safety through the rapid current by Tom's wife, Julie, and their three sons. The family also gave Osterhues and Tila a warm meal and a place to sleep for a few nights. PETA staffers are now "passing the dog bowl" for Osterhues and Tila—collecting donations to help them recover from their loss and relocate to be near family. Thus far, the donations have amounted to more than $1,000.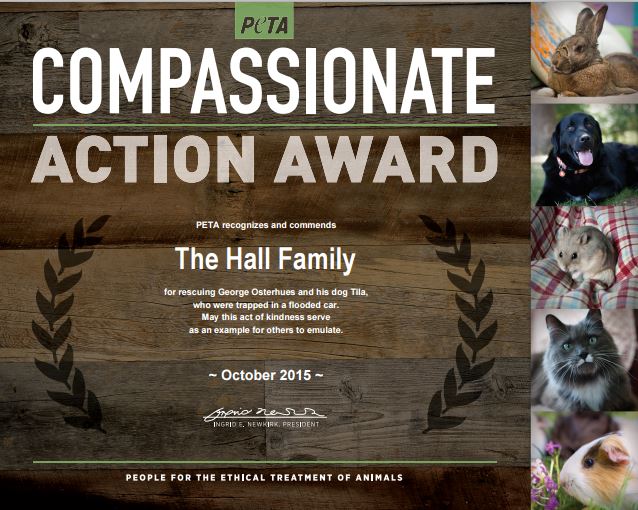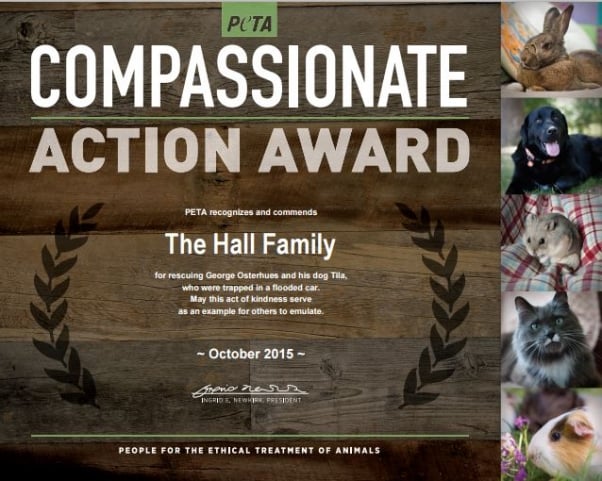 Although Osterhues' car was totaled and he lost many of his belongings in the flood, he told PETA that he's thankful to have Tila, who is the most important to him. "The losses I have I don't care for," he said. "I have my dog. Everything is replaceable, but my dog is not."
Another PETA Compassionate Action Award is going to Alex Scroggins, who spotted Lucky, a dog stranded on a porch in Conway, South Carolina, in rising floodwaters. Scroggins calmed the terrified dog, who was alone and up to his knees in water, then lured him into a kennel, which he placed on a boat.
"I couldn't leave him. He was desperate for help. I knew that if I didn't get him out of the flood, he wasn't going to make it," stated Scroggins.
Scroggins and Lucky soon bonded, and Scroggins decided to make Lucky a permanent member of his family.
PETA offers the following tips for keeping companion animals safe during a flood:
Have your animals microchipped, and put secure, legible ID tags on them.
Never leave your animals outdoors, tied up, or confined in any way, as they will be trapped and unable to flee rising waters.
In the event of an evacuation, never leave your animals behind to fend for themselves.
Know your emergency destination ahead of time. Shelters for human victims usually don't allow animals, but motels in the area often accept them in an emergency.
Watch for other animals in need, including strays and those who've been left behind by neighbors. If you see an animal in distress and are unable to help, note the animal's condition and location and call authorities for help as soon as possible.
Scroggins and the Hall family will each receive a framed certificate and a box of delicious vegan cookies. PETA is also sending dog toys for Tila and Lucky.