Got vegan milk? Students across the country are standing up by sitting in and demanding that Starbucks end its vegan milk upcharge. These protesters are sending an important message: There are no such things as  "dairy cows"—only mother cows whose milk is stolen by humans.
The student activists—part of Students Opposing Speciesism (SOS), the PETA-backed youth movement against human supremacy—are sitting in to take a stand in cities across the country, including Boulder, Colorado; Brentwood, Cupertino, and Los Angeles, California; Elmira, New York; Orlando, Florida; and Pittsburgh.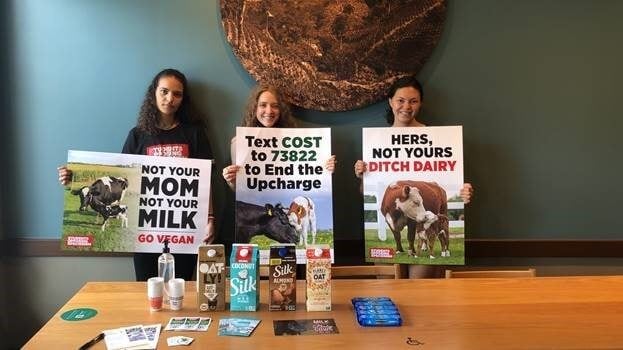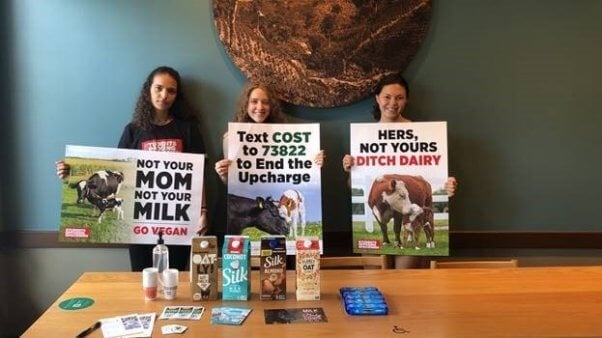 Orlando, Florida, Starbucks sit-in
These peaceful sit-ins help inform the public and raise awareness of the horrors of the dairy industry.
Some people don't know that the dairy industry exploits female cows and then kills them once they're no longer profitable. Cows held captive in this abusive system are forcibly inseminated, their calves are stolen within a day of birth, and they're often milked until sore. Then, they're killed and put on someone's dinner plate. Those who want to help oppressed cows by requesting vegan milk at Starbucks shouldn't be penalized with an extra fee.
Not only is dairy unjust to cows, upcharges for dairy-free milk also neglect the dietary needs of BIPOC, who are largely lactose intolerant. When big companies like Starbucks make dairy the default, they're propagating exclusion. And no matter your ethnic background, dairy consumption can increase your risk of suffering from heart disease, cancer, and strokes.
Since consuming dairy is so common in our society, many people don't think twice about it. The students' meaningful demonstrations help make the public realize that drinking the breastmilk of another species is unnatural and unnecessary.
Inspired by these progressive student activists? You can hold your own Starbucks sit-in! It may help change the hearts of Starbucks executives, while informing customers that consuming dairy is unhealthy, unsustainable, and unethical.
And if you're a student who wants to make a difference, sign up for SOS today, check out our welcome guide for tips on leading protests and sit-ins, and order a FREE Starbucks action kit. We'll guide you on hosting a sit-in, making sure you are aware of your rights and know how to host a successful, safe, influential event.