On Monday night, a police dog named Spartacus endured an agonizing death from heatstroke when he was left in his handler's car in Woodstock, Georgia. His loss is all the more disturbing because it follows those of other K9 officers who died in a similarly horrific fashion. To make sure that law-enforcement agencies are aware of the dangers and how to avoid them, PETA has sent urgent mailings to hundreds of police and sheriff's departments, including a poster that can be used to remind officers of the risk to their K9 partners' safety: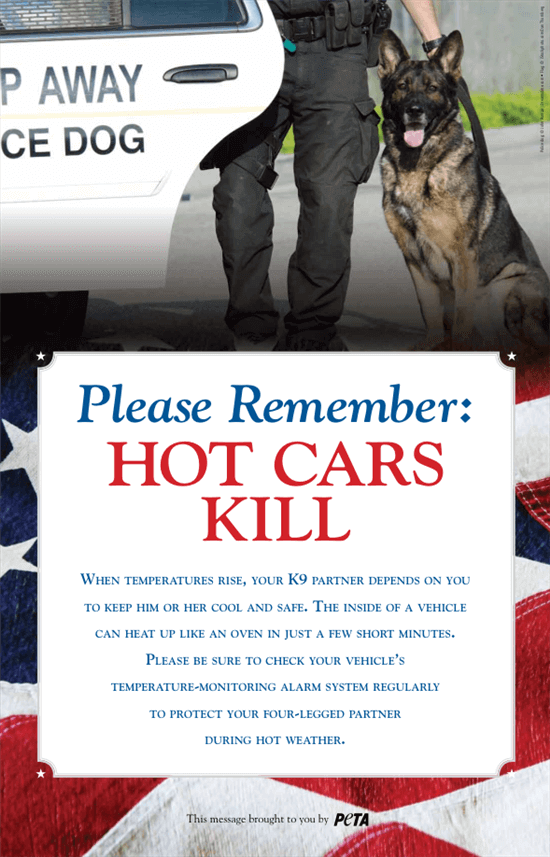 With the official start of summer upon us, PETA's mailing urges law-enforcement officials to equip their K9 vehicles with temperature-monitoring and heat-alert systems that can take actions such as sounding an alarm, paging an officer, starting the engine, rolling down a window, or popping a door open if the temperature approaches a dangerous level.
Whether dogs patrol the mean streets or just our homes, they should never be left inside a car during warm weather. Even on a 78-degree day, the temperature inside a parked car can quickly soar to as high as 120 degrees. Shock sets in as the dog's internal temperature rises, and death can occur in just 15 minutes. It's a gruesome, terrifying way to die—dogs struggle to escape the vehicle, often salivating heavily, losing control of their bladder and bowels, and clawing the car windows so violently that their paws become bloodied.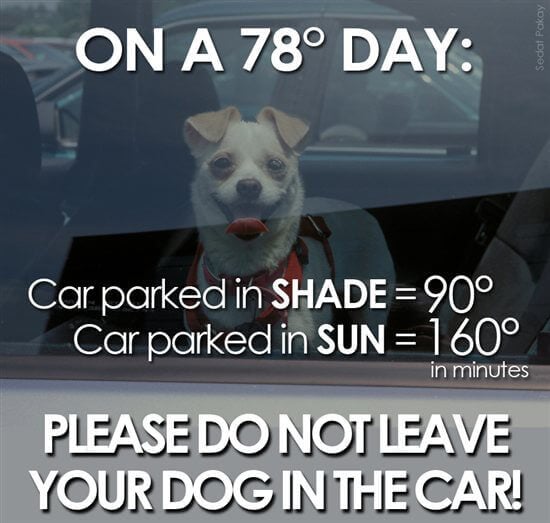 That's why we were pleased to learn that the Los Angeles County District Attorney's Office is also taking action to keep dogs out of hot cars. Its lifesaving "Hot Oven/Hot Car" campaign uses attention-grabbing ads—in English and Spanish —to remind guardians that leaving their dogs unattended in vehicles is not only unsafe but also illegal.
What You Can Do
Please never leave your dog alone in a parked vehicle, and know what to do if you see a dog in heat-related distress—there's no time to lose!