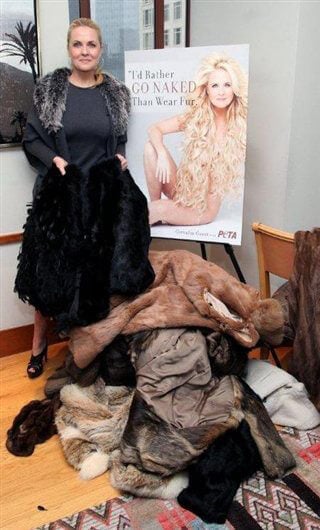 © Taylor Hill
What do you give a beautiful and charming New York socialite for her birthday? Fur coats, of course. At her birthday luncheon today, Cornelia Guest and her well-wishers donated dozens of their own coats—made from foxes, chinchillas, rabbits, minks, and other animals—to PETA's fur coat giveaway program for the homeless.
PETA Vice President Dan Mathews was on hand to collect the furs and said, "Fur used to be a uniform in high society, but that's all changing, and nobody illustrates that better than Cornelia."
After the vegan birthday cake was served, Cornelia spoke about the hideous cruelty of the fur industry. She said of fur-wearing among members of high society, "It's the fire-hydrant syndrome. Once one dog lifts his leg, they all follow!"
Cornelia also unveiled her new ad for PETA's iconic "I'd Rather Go Naked Than Wear Fur" campaign to convince others to swear off fur furever. Her ad will hit New York's streets during the busy holiday-shopping season to remind shoppers that compassion is the fashion.  
If you or anyone you know has fur coats moldering away in their closets, why not follow the example of Cornelia and her friends and donate them to PETA? We'll mark them so that they can't be resold and give them to the homeless for a little extra warmth this winter. Remember: Even a little bit of fur trim means a world of suffering for animals on fur farms or who are trapped in the wild.