People passing by USA Network's Rockefeller Plaza headquarters yesterday were greeted by a pack of "dogs" howling against the network's decision to air the Westminster Dog Show. PETA's beagle brigade made sure that everyone heard the ugly truth about doggie beauty pageants and the dog-breeding industry: They kill shelter dogs' chances. That's because when people rush out to buy a puppy like the purebred they saw prancing around on TV, a lovable pup in an animal shelter loses a chance at a good home.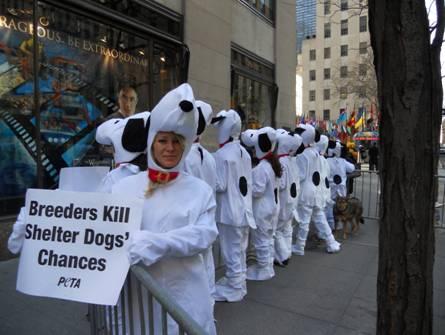 The message is getting through: PETA's "dogs" got plenty of thumbs-ups and "go get 'em's" from passersby, and one woman even cheered, "Yay, PETA! Keep doing what you're doing—great job!"
This year, Westminster added six new breeds to the dog show, while an estimated 4 million animals are still being euthanized in shelters each year. We can help spread this lifesaving message by reminding our friends and family members that people who really love dogs save lives by adopting their canine companions from animal shelters.
Written by Lindsay Pollard-Post