Photo from Ms. Amy Cook of the VegCooking Blog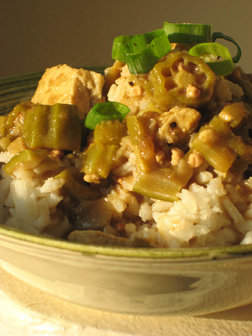 Hey again everybody! Now that I'm writing the blog while Jack's in Texas, I thought about the fact that I can post almost anything… hey, if Joel can write about Smiles, then I can certainly write about yo' mamma! Well, not your mamma necessarily, but I do want to share a couple little secrets from my mamma!
My mom is a Cajun woman straight from the dirty south. She's loud and proud and makes food so spicy it'd make you slap your grandma. When I was 13-years-old I announced to my parents that I had made the life decision to never eat meat again (ya know, the whole decomposing animal flesh just didn't appeal to me). My parents were both very supportive, but one question remained… what on Earth would I eat?? We were so used to the heavily meat-based world of Cajun delicacies that it was tough at first.
However, being the wonderful mother that she is, my mom and I started inventing vegan versions of the most delicious soul food that I'd been used to for so long. One of the recipes even made it to VegCooking.com (check out my mom's vegan gumbo recipe by clicking here). Dirty rice, gumbo, jambalaya, cornbread dressing, every traditional Cajun dish eventually gained a vegan version. I was thrilled! No more side-dish-only-Thanksgivings for me!
When I moved to Norfolk to start my job at PETA, I discovered another world of delicious vegan substitutes for other traditional dishes (which you can read about here). My point is, vegetarians and vegans are hot and we deserve the best. I urge you to remember one of your favorite meals from before you took the pledge to be veg and recreate it vegan-style because I guarantee that not only will it be delicious, but it'll be way better for you this time around (not to mention there'll be no animals harmed in the process).
From one fried food lover to another,Christine <3