When you see muscular men duking it out in the ring, does it make you think of spinach? It should. It turns out Popeye was right all along. Yahoo! Sports is reporting on the growing trend of vegetarian diets among mixed martial arts (MMA) fighters.
Strikeforce MMA champion and our Most Animal-Friendly Athlete winner Jake Shields is always ready to talk to other fighters about his life-long vegetarian diet. And they're listening. (I would, too—geez, look at him.)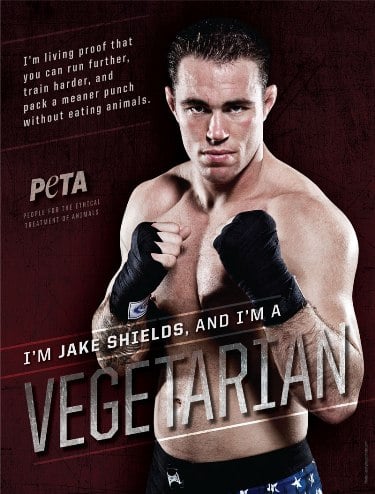 Jake's training partner, Strikeforce champ Nick Diaz, and Nick's brother Nate Diaz, an Ultimate Fighter winner, both adopted vegetarian diets after watching Jake work his magic in the ring. UFC fighter Jon Fitch has also almost entirely ditched his meat-and-potatoes habit and is considered to be one of the top three welterweights in the world.
And who could forget studly Mac Danzig? We would totally not pick a fight with him (thank goodness he's our friend), but this tough guy has a soft spot for animals and went vegetarian after seeing a truckload of pigs being sent to slaughter. He's now vegan and continues to wipe up the floor with meat-eaters all over the world.
Wonder if we could get them to do an Ultimate Vegan Fighting Championship? That would be enough to make a good vegan girl go bad.
Written by Michelle Sherrow