No one wants images of miserable animals with broken spirits to put a damper on a party, and the self-proclaimed "world's largest party supply superstore" agrees.
After being contacted by PETA, party supplier Shindigz ended sales of a 3-foot-tall cardboard prop with a photo of a baby elephant standing on top of a ball, agreeing with us that it didn't want to promote the abuse of elephants in circuses.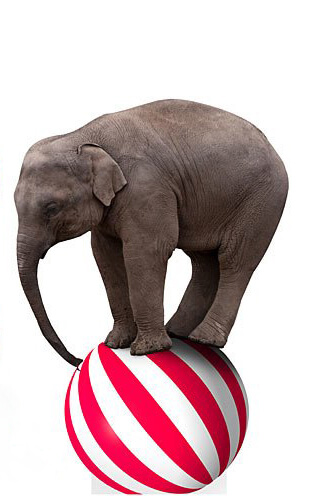 Shindigz has already cut ties with notorious animal abuser Ringling Bros. circus: In 2011, the company pulled all Ringling-related products from its stores after hearing from PETA. Shindigz confirmed to PETA that it is opposed to cruelty to animals and strives to be a good corporate citizen.
Its compassionate decision to do away with images of elephants performing under duress is yet another sign that animal-based entertainment is on the way out. People are fed up with companies that routinely beat, shock, and whip animals until they learn to perform meaningless tricks. It was public outrage that persuaded Ringling to end its use of elephants in live acts this year.
Elephants who are forced to perform in circuses are controlled under the constant threat of physical punishment. They are hit with bullhooks—a sharp steel-tipped weapon resembling a fireplace poker—and are denied everything that is natural and important to them, forced to spend most of their lives in chains.
No Animal Belongs in the Circus
Even though elephants are finally getting a break from Ringling's shows, it has no plans to retire the lions, tigers, camels, donkeys, pigs, kangaroos, llamas, and other animals it still exploits. Please encourage officials to reconsider.