PETA has filed a formal complaint with the U.S. Fish and Wildlife Service (FWS) calling on it to investigate Serenity Springs Wildlife Center, a disreputable Colorado-based pseudo-sanctuary, for alleged violations of the Endangered Species Act (ESA). PETA believes that Serenity Springs is violating the ESA by harming, harassing, wounding, and killing tigers and other endangered animals as well as failing to obtain the required permits for more than two dozen endangered animals. PETA wants the FWS to take all appropriate legal action against Serenity Springs if it uncovers any violations.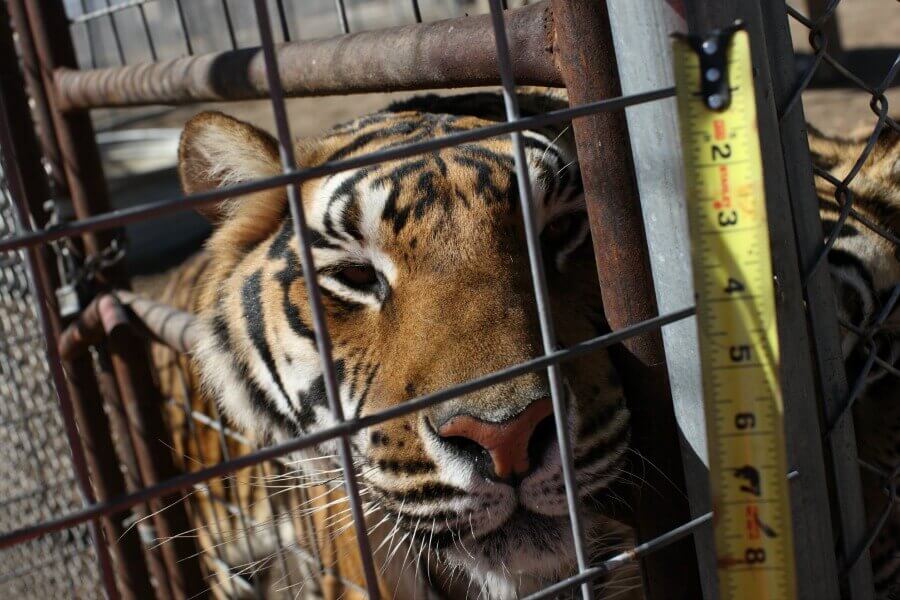 Serenity Springs has an appalling death rate—by its own admission, approximately one-third of its animals have died in the past five years. According to the U.S. Department of Agriculture (USDA), many of these deaths involved improper handling and/or denial of veterinary care—and the agency has dozens of charges for Animal Welfare Act violations pending against Serenity Springs.
In one incident, according to the USDA, Serenity Springs manager Nick Sculac, who has no veterinary degree, "diagnosed" a tiger named Nala with cancer and then, rather than obtaining treatment for her, gave the tiger "three doses of a sedative, unsuccessfully attempted to inject Nala with euthanasia solution, and ultimately killed Nala by cutting her throat, and reported to Colorado officials that Nala had died of natural causes." The agency also found that in another incident—and again without consulting a veterinarian—the roadside zoo had a volunteer kill a tiger with medical problems.
PETA has also recently filed formal comments with the FWS opposing an application by Serenity Springs for a permit to breed captive endangered animals and has asked the USDA not to renew Serenity Springs' exhibitor's license.
What You Can Do
Your curiosity kills big cats. Next time you see a roadside zoo, just keep driving—these cruel operations stay in business only because people patronize them.