After its request to dismiss the OSHA case against it was rejected, SeaWorld called its first witness, Jenny Mairot, the supervisor of animal training at the Orlando park. Mairot started at SeaWorld a year after graduating from high school and has never received formal training as an animal behaviorist or trainer outside the organization. Despite being Dawn Brancheau's partner at the time of her death, Mairot testified cheerfully, laughing loudly and often during her testimony.
Mairot described Tilikum—the orca who killed Brancheau (and two others)—as "the most congenial, easygoing, and predictable" of the three adult male orcas she has worked with. She called Brancheau's death "tragic, but it was not unpredictable" and said that SeaWorld employees "were well aware of what would happen if someone fell into the pool with [Tilikum]."
OSHA's attorney stressed that SeaWorld turned a blind eye to safety and allowed its trainers to be in harm's way just for show by "writing incident reports, sending them around, and patting themselves on the back."
Mairot blamed trainer Alexis Martinez's death on "layers of mistakes" and said that when she watches video footage of the incident, "Keto [the whale who killed Martinez] wasn't even that bad." She stressed that the trainers at Loro Parque are "raw" and that the orcas are all young males. Mairot failed to note that Loro Parque staffers were trained by SeaWorld trainers and that the orcas were all provided for and placed in the facility by SeaWorld. SeaWorld Orlando trainers stopped water work for only a single day after Martinez's death, and no substantive changes were made to their protocols.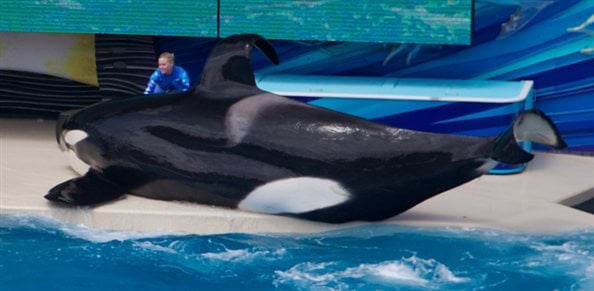 The next witness, Kelly Flaherty Clark, is the curator of animal training at SeaWorld Orlando. Flaherty Clark agreed with Mairot that the trainers were at fault for Martinez's death. Flaherty Clark lamented the fact that non-SeaWorld staffers were allowed to review incident reports since they don't understand "our craft." When asked who incident reports were meant for, Flaherty-Clark replied, "Certainly not a lawyer or the courtroom."
More to come.
Written by Jennifer O'Connor