In an appalling display of its mercenary mindset, SeaWorld is fighting a federal charge that it exposed its employees to risks "causing or likely to cause death or serious physical harm," which was brought after trainer Dawn Brancheau was killed by the orca Tilikum last year. The Occupational Health and Safety Administration (OSHA) cited SeaWorld for a willful violation of federal law and fined the company the maximum amount allowed. PETA supporters were outside OSHA's Florida office to stand up for the animals who live and die in cramped tanks at SeaWorld.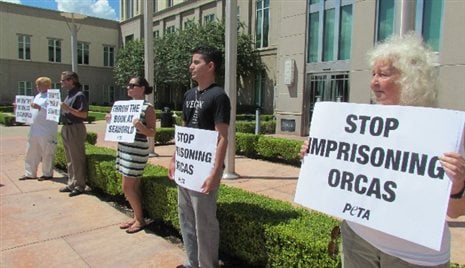 Photo courtesy of Carla Wilson
Even though Tilikum had killed twice before—and despite a history of trainer deaths, hospitalizations, and injuries—SeaWorld's attorney argued that Brancheau's death was merely an "unfortunate event" and that its training process made interactions with killer whales "safe." Yet, SeaWorld's curator of animal training acknowledged that these procedures couldn't have saved Brancheau after she was dragged into the water by Tilikum.
Government attorneys stated that killer whales are "large, powerful and non-domesticated animals" with "the potential to cause serious physical harm or death to people who get near them." They argued that "SeaWorld's killer whale training program doesn't change the essential facts that harm or death to people is possible. Their program doesn't eliminate what SeaWorld itself recognizes as a calculated risk."
The hearing is expected to last all week. Stay tuned for updates.
Written by Jennifer O'Connor