A sign in the window of Schumacher Furs during a lawful protest against the cruelty of the fur industry
Greenisthenewred/Creative Commons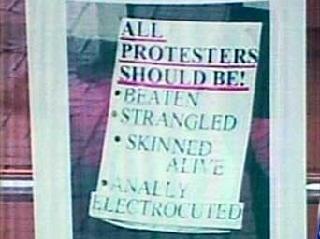 You may remember that the good people over at Schumacher Furs saw fit to sue PETA when their store in downtown Portland was closed following regular protests by local activists and concerned citizens. There were a number of good reasons why the Schumachers didn't have a leg to stand on with their lawsuit, such as the fact that the protests against the furriers weren't even PETA demonstrations (not to mention that whole first amendment thing).
Well, last week, the judge in the case ordered Schumacher Furs to pay PETA more than $40,000 as reimbursement for legal fees incurred fighting the lawsuit (which he called "an extraordinary abuse of the litigation process"), and his statement in the ruling just about says it all:
"I find that awarding fees in this case will properly serve to deter putative plaintiffs from filing multimillion-dollar suits against nonprofit groups and private citizens engaged in First Amendment activities …."
So there you have it—a victory for animals and for free speech all in one go. The cash is a nice bonus, too.