Eden II, a Staten Island school for autistic children, recently lost some electronics and rubber duckies to burglars, but it's the theft of Star, the school's hamster, that has students crying and losing sleep.
In an effort to nix any notion about getting a "replacement" for Star, our TeachKind reps have reached out to Eden II officials, offering to replace the classroom hamster with Webkinz, a humane alternative to live classroom animals that combines toys and technology to allow kids to care for adopted friends online. With Webkinz, kids learn responsibility and kindness without subjecting an animal to possible neglect or abuse.
We are also providing the school with information about pet shop cruelty, because most of the exotic animals in pet shops come from filthy warehouses such as U.S. Global Exotics (USGE), where an undercover PETA investigation revealed shocking neglect and cruelty. Hamsters, prairie dogs, lizards, turtles, frogs, and hedgehogs were kept for weeks packed into cattle-watering troughs, cardboard boxes, and plastic bottles, and countless animals were deprived of food, water, light, and ventilation. There was no veterinary care for countless sick and injured animals, who instead were simply left in freezers to die or carelessly tossed into a waste bin. Fortunately, PETA's investigation resulted in the permanent removal of more than 26,000 mammals, reptiles, amphibians, and arachnids from USGE—but our fight against this kind of common cruelty continues.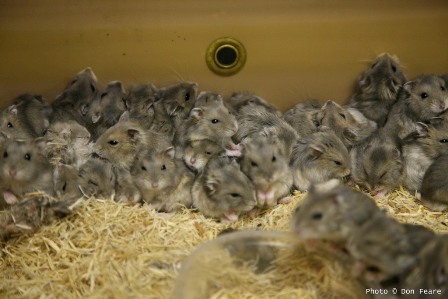 Will Eden II officials accept our offer and decide to ban live animals from their classrooms? I sure hope so. After all, I believe that Star would never wish his frightening fate on another helpless animal.
Written by Karin Bennett