As if she's not busy enough getting ready to release her fifth studio album, We Are Born, Australian songbird and vegetarian Sia Furler (and her adorable puppy, Pantera) still found time to pose in a lively new PETA Australia ad urging people to help end the dog and cat overpopulation crisis by spaying and neutering their animal companions. In the ad, which launched in Australia, Sia is calling on her fans around the world to spread the word about the homeless animal crisis and how simple surgery can help curb the number of animals who must be euthanized each year for lack of good homes.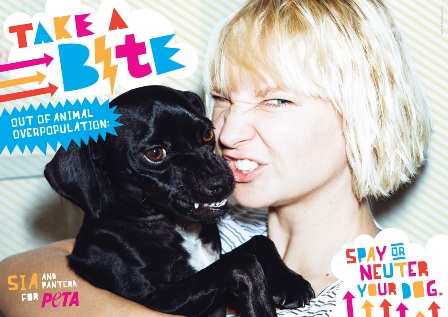 Sia is smoking hot—she's receiving critical acclaims for her contribution to the writing of Christina Aguilera's new album, Bionic, and her work with U.K. bands Zero 7 and Massive Attack. And she'll be touring with Lilith Fair this summer.
In the last few weeks, a trio of my favorite celebs have spoken up for animals! Sia joins Cloris Leachman and Glee's Jane Lynch in calling for an end to the senseless deaths of so many animals.
Written by Jennifer O'Connor