Imagine the very start of the running of the bulls in Pamplona, Spain: Anxious spectators lean forward to see the intimidating, powerful, and dangerous 600-pound bulls charge around the corner.
Now imagine the spectators' surprise if the corner was rounded not by tortured animals but by Formula 1 racing cars. The mighty, 600-kilogram (1323-pound) masses of metal are operated by professional drivers who squeal their tires on the cobblestones and maneuver around corners so tightly that spectators are forced to scramble to safety. How freakin' awesome—and better—would that be?
Well, it turns out that that's what actually happened last weekend. Red Bull sponsored an event where two drivers, David Coulthard and Sebastien Bourdais, tore through the streets of Pamplona early on the morning of June 28. They finished the Red Bull Run with car demonstrations in the bullfighting arena and on a 1.2-mile track.
The best feature of this event was that—unlike what happens at that other Running of the Bulls—the drivers who gave chase weren't beaten before the race, and chemicals weren't smeared in their eyes. The drivers were paid, too. Oh yeah—and the drivers weren't stabbed to death afterward, either, which is nice.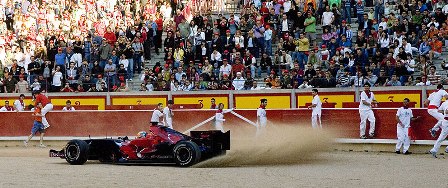 You can check out all sorts of details and videos of the rockin' event here.
Posted by Sean Conner