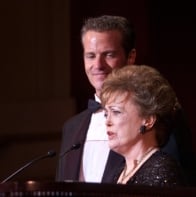 Back in the '80s, when many people still thought that PETA was a Middle Eastern bread, a funny actor from Oklahoma became our first champion in Hollywood and helped establish the organization as a household name. She was Rue McClanahan, the flirty "Golden Girl," and she became so active that she was PETA's honorary director for almost three decades.
I was still PETA's receptionist when I wrote to Rue and asked if she would star in our first anti-fur commercial. You can imagine my delight when I answered the phone to hear Rue say that not only would she do it, she had gotten Bea Arthur and Betty White to appear, too, and had even convinced the producers to film it for us free of charge on the set after one of their Friday-night tapings. From then on, Rue became a key PETA operative in Hollywood as well as a personal friend; she even let me use her dressing room as a makeshift office, as PETA had no office in L.A. back then. I left my post at the reception desk and started developing campaigns with high-profile personalities thanks in large part to Rue's enthusiasm.
Growing up in the country, Rue had always been shocked to see the glee that many people derive from hunting and fishing—and she had been mocked for her concern—so she felt relieved to get involved with an organization that made no apologies about defending all animals. After winning an Emmy, Rue did the talk-show circuit and always found a way to discuss her PETA activism, telling viewers, with that gracious smile, that not only was she anti-fur, she also opposed animal experimentation. In Salt Lake City, she took time off from the Touched By an Angel set to host PETA's video for a landmark factory farm cruelty case. In Las Vegas, she led a protest outside a furriers' convention. In Virginia, she launched PETA's mobile spay-and-neuter clinic. And in New York, she hosted a saucy PETA benefit at Chippendales. One muggy summer, she returned to Oklahoma, where PETA had filmed elephant trainers beating animals who were performing in the circus, to screen that footage at the state capitol and call on lawmakers to outlaw bullhooks.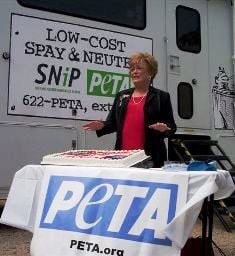 When floods ravaged the Midwest, Rue flew to St. Louis to make appeals for people to include animals in their evacuation plans. She starred in public service announcements urging people to spay or neuter their animals and always to adopt from animal shelters rather than buying from pet shops or breeders (there were four shelter dogs at that shoot, and she took all of them home). She opened her house for a PETA benefit and told guests that "Rue" is French for "street" and that she always wished her last name had been "Walker."
But my favorite memory of Rue was when we traveled to New Mexico, where she helped push through legislation to outlaw cockfighting. When a reporter asked if there would be any naked protesters, she just smiled and replied, "It's not that kind of cockfight."
If animals could sing, I have no doubt that they'd serenade Rue with the Golden Girls theme song: "Thank You for Being a Friend."
Written by PETA Senior Vice President Dan Mathews
P.S. To make a gift for animals in Rue's honor, please visit our True Friends Memorials page.