The NBA finals are upon us, and Los Angeles Lakers small forward Ron Artest is up to his old tricks—playing lock-down defense on Paul Pierce of the Boston Celtics and bringing his patented passion and energy to a Lakers team that acquired him in the off-season for just that reason.
Artest may be vying for his first championship ring, but he's already got one accolade in the bag—PETA's Defensive Player of the Year award for defending dogs and cats against the animal overpopulation crisis. Through this eye-catching ad, the tough-as-nails Artest urges his fans to "have the balls" to spay or neuter their dogs: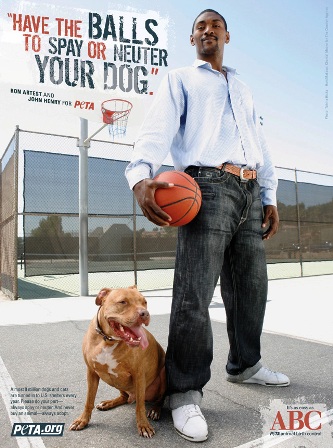 This busy athlete also took the time to shoot a public service announcement for PETA, asking people to make a difference for animals by getting involved.

Share on Facebook | Viewing Options
Embed

We wish Ron-Ron the best of luck in bringing home the title this year! Around the country, fingers (and paws) are crossed in thanks for his full-court-press for animals.
Written by Jennifer O'Connor