At a time when social media influences the outcome of everything from presidential elections to concert bookings, Ricky Gervais, who keeps his 5.3 million Twitter followers informed on animal rights issues in a witty and irreverent—yet relevant—way, has been named PETA's 2013 Person of the Year.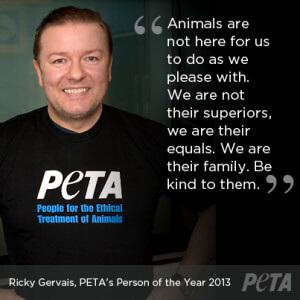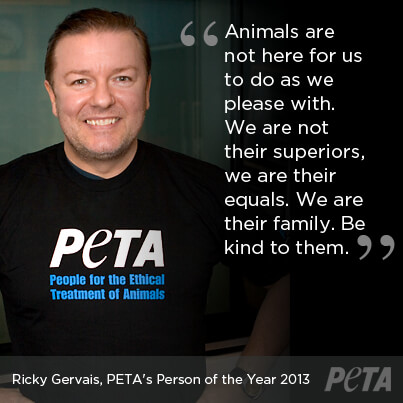 True to PETA's position against animal abuse, when Melissa Bachman posed with a lion she had just shot and a big grin on her face, Gervais posted, "I'll pay for each pride of lions to have their own designated sniper on their side. Now it's a sport …." In sync with PETA's cruelty-free cosmetics campaign, Gervais tweeted, "Dear intelligent people of the world, don't get shampoo in your eyes. It really stings. There. Done. Now f***ing stop torturing animals."
"I probably don't do anymore than anyone else on Twitter, but with 5.3 million followers, I can reach an awful lot of people at once," Gervais told JustGiving, which dubbed him the most influential celebrity on that site. "And if you're passionate about something that has touched your heart, chances are it will touch many other people's hearts in the same way."
Gervais, whose wide social-media influence has also earned him a top Klout score among comedians, netted more than 58,000 favorites and 83,000 retweets of his tweets about animals in 2013. His other animal advocacy work includes appearing in this animated video against fur and exotic-animal skins, in which he supplies the voice for a rabbit, with rocker Pink in the role of the crocodile.
Here are some more samples of Gervais' trademark blend of compassion and biting wit in 140 characters or less:
Freedom of speech, rationality, truth and honesty. This is my religion. Oh, and cats. & dogs. All animals. Some people. Alcohol is good too.

— Ricky Gervais (@rickygervais) November 24, 2013
Can't we just do this test on the people who did it to these beautiful, innocent beagles? pic.twitter.com/2rBr9gvcSN

— Ricky Gervais (@rickygervais) December 7, 2013
I can't describe the total thrill of never murdering a beautiful wild animal & mounting its head on a wall. It's exhilarating and so natural

— Ricky Gervais (@rickygervais) November 18, 2013
Animals are not here for us to do as we please with. We are not their superiors, we are their equals. We are their family. Be kind to them.

— Ricky Gervais (@rickygervais) November 17, 2013
When xmas shopping please don't buy into cruelty. No real fur, no foie gras, & don't give anyone a Cliff Richard calendar. That's just nasty

— Ricky Gervais (@rickygervais) November 16, 2013
I reckon Zombies are grumpy all the time because they only eat red meat. They must be constipated for eternity.

— Ricky Gervais (@rickygervais) October 26, 2013
If you enjoy seeing an animal terrified or in pain you are a cunt.

— Ricky Gervais (@rickygervais) October 22, 2013
Dear intelligent people of the world,
don't get shampoo in your eyes.
It really stings.
There. Done.
Now fucking stop torturing animals.

— Ricky Gervais (@rickygervais) July 21, 2012
Most people I've met who weren't kind to animals weren't kind to people either. Kindness is kindness. Simple as that.

— Ricky Gervais (@rickygervais) September 21, 2013
We should free laboratory animals and only test cosmetics on internet trolls.
They'd get the attention they crave and they'd look nicer.

— Ricky Gervais (@rickygervais) May 12, 2013
As much as I love seeing heartless morons gored to death, I can't take the risk of 1 innocent animal being hurt for fun. #banbullfighting

— Ricky Gervais (@rickygervais) April 13, 2013
#ff @fabulousanimals @wspauk @TigerTimeNow @AnimalsAsia @StopFurTrade
Whether you believe in evolution or magic, be nice to animals 🙂

— Ricky Gervais (@rickygervais) April 5, 2013
Pop into an animal rescue centre today. Even if you have no intention of taking a little critter home, get a free cuddle & donate a fiver 🙂

— Ricky Gervais (@rickygervais) February 3, 2013
How can anyone abandon a beautifully loyal dog?
It's not an accessory. It's your best fucking friend.
It makes me so sad & angry.

— Ricky Gervais (@rickygervais) February 2, 2013