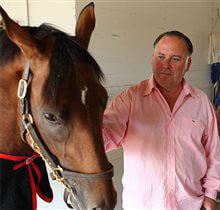 Rick Dutrow and Big Brown, one of Rick's many horses who suffered because
he was forced to race
Great news—notorious thoroughbred trainer Rick Dutrow Jr. won't be drugging, overworking, or breaking more horses anytime soon—at least not in the great state of New York. The New York State Racing & Wagering Board has kicked Dutrow to the curb: He's banned from racing in the state for the next 10 years—an unprecedented punishment.
Dutrow, the trainer of the 2008 Kentucky Derby winner Big Brown, has received nearly 70 citations over the course of his career for a variety of violations, including for illegally drugging his horses.
PETA has sent the board a bouquet of flowers as a token of our appreciation for sparing countless horses from the reckless and dangerous actions of this trainer. 
Please help other horses who are suffering in the cruel horseracing industry by speaking out against deadly speed tests in which many young horses are injured or killed after being forced to run at breakneck speeds and urging The Jockey Club to implement the Thoroughbred 360 Lifecycle Fund to ensure that racehorses are retired, not slaughtered, after they cross the finish line for the last time.