It's never a good idea to give an animal as a gift: Just ask Harry and Houdini. A man gave the pair of ducklings to his wife as Valentine's Day gifts. Like many people who receive animals as gifts, she had no idea how to care for them—so Harry and Houdini sat, day after day, in a plastic crate in the couple's living room. For two weeks, the ducklings never swam in a pond or saw the open sky—they never even left the crate, which grew filthier every day.
But finally, the woman called PETA and asked us to take the ducklings. When we arrived to rescue them, their tiny crate was covered with a two-week buildup of their own waste.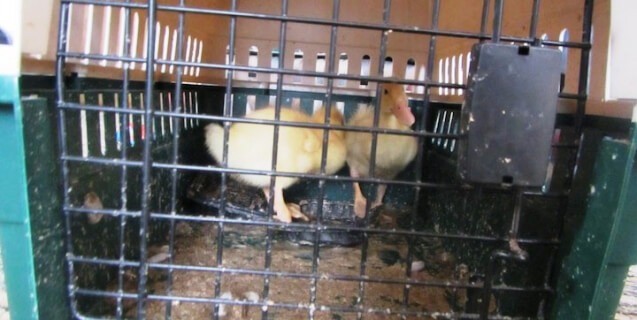 We took them to the Virginia Beach SPCA, where they were freed from their filthy crate, cleaned up, and finally given space to spread their wings—and then the search for the perfect home for them was on. It wasn't long before a PETA member named Katie offered Harry and Houdini a permanent home at her vegetarian farm in the country, where the sweet ducklings would have the land and water that they craved.
Because the ducklings hadn't grown up with their mother, they weren't sure how to be, well, ducks! To help build up the duo's confidence, Katie introduced them to other animals on her farm, including other ducks who could show them how to preen their feathers, splash in water, and strut around in the fresh air.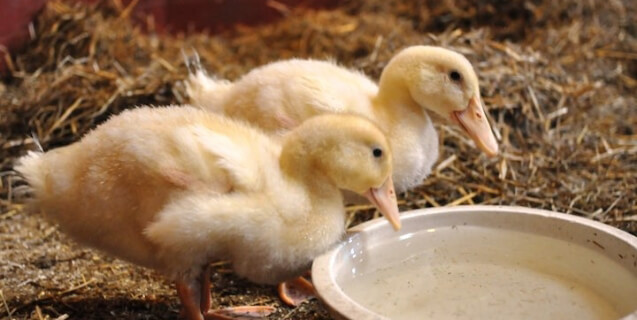 Finally, the big day came—for the first time in their lives, Harry and Houdini got to swim in a pond!
Harry and Houdini now have full, happy lives, but countless animals who are given as gifts aren't as lucky. Katie's farm is home to dozens of rabbits, chickens, goats, pot-bellied pigs, geese, and even a horse, many of whom were given as gifts, only to be given up once the recipient realized how much work was involved in caring for them. "Buying animals for gifts for other people is a bad idea," Katie says. "It saddens us deeply that these poor creatures are left in filthy conditions and neglected. … [An animal is] a lifetime commitment. … Every animal should have a forever home."