This 14-week-old kitten owes her life to a kind woman who didn't just shrug and walk away when she saw the tiny black-and-white cat limping around a gas station parking lot in Emporia, Virginia.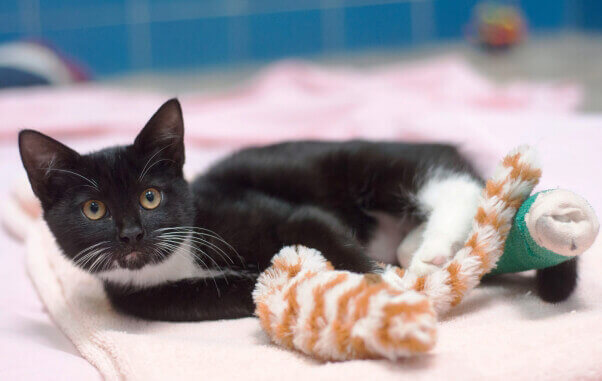 The woman asked the gas station employees about the cat, and they told her they'd been feeding her for a couple of weeks but had no idea how her leg came to be injured. They readily agreed when the woman offered to take her. Thinking the kitten might have a sprain or a dislocated joint, she knew the cat desperately needed veterinary care that she couldn't afford, so she called PETA for help.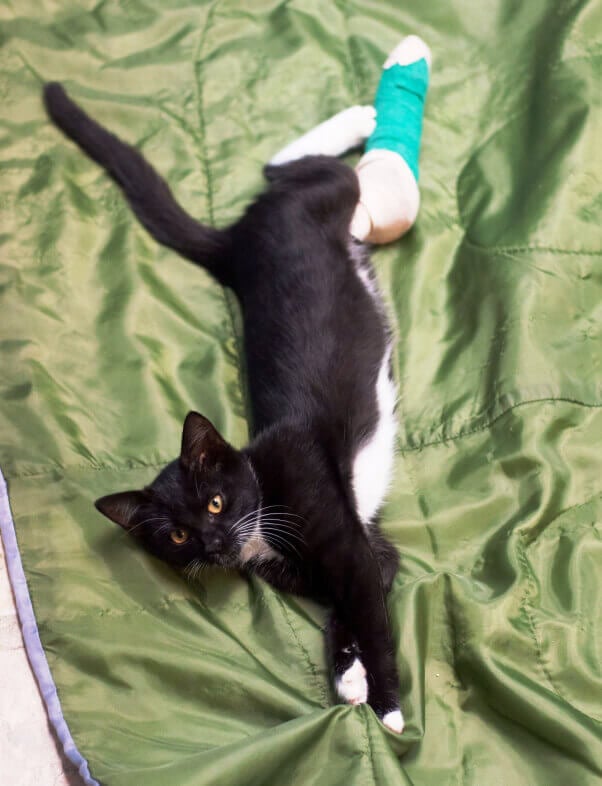 A PETA fieldworker drove out to Emporia—a three-hour roundtrip drive from our Norfolk, Virginia, headquarters—to pick up the kitten and then took her to a vet. X-rays revealed that the injury was far more serious than a sprain—the leg was broken and had been for some time.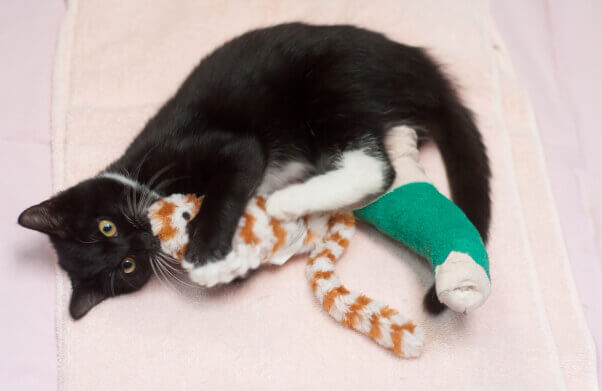 We will never know how this kitten broke her leg, but we do know that it's not at all uncommon for stray kittens to sustain horrific injuries: A study published in the Journal of the American Veterinary Medical Association found that 75 percent of "outdoor kittens" die or disappear before they are 6 months old, and the leading cause of death is trauma.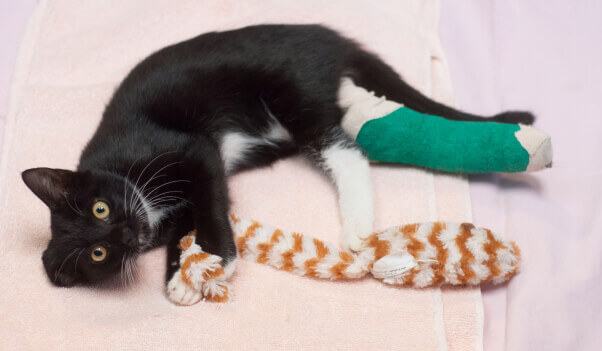 Thanks to a compassionate person's intervention, this kitten beat the odds. Dubbed Murdoch by PETA fieldworkers, who are apparently fans of a certain Canadian TV show, she now sports an enormous green cast that should be—but isn't really—slowing her down. She loves swatting at dangly toys, pouncing on fingers wiggling under blankets, clambering over laps, and knocking over her water bowl. An excellent, high-spirited patient, she immediately bursts into loud purring the second anyone enters her recovery room.
Murdoch's cast is coming off soon, after which she'll be ready to bound off to her new home. If you think that Murdoch's new home and your home may be one and the same, e-mail [email protected] to find out more about this spunky little survivor.