Ooh, what have we here—a sss-exy photo shoot for a fashion magazine?
Actually, these lovely "lizards" were part of PETA's wildly successful protest against killing snakes, lizards, and other exotic animals for their skins. Swarms of onlookers and media in Prague soaked up our compassionate message.
See the guy in the background? He's just realized that his coat's atrocious fur trim has crushed his chances of chatting up the gorgeous protesters.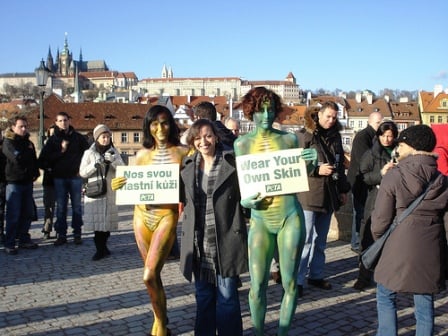 Our thanks go out to our ravishing reptiles, the body painter who donated his time to painstakingly apply their "costumes," and other caring people who handed out leaflets to ongawkers.
Written by Karin Bennett