Last weekend, U.S. Rep. Jamie Raskin joined PETA in handing out 150 bags packed with the makings of a hearty "ThanksVegan" feast—including vegan roasts, fresh produce, and tofu—in Maryland. His wife, Sarah Bloom Raskin—former deputy secretary of the U.S. Department of Treasury—also participated. The food bank that hosted the giveaway, originally known as the Takoma Park Food Bank, changed its name to Tommy's Pantry in 2021 to honor the memory of the Raskins' son, Tommy, who was vegan and grew up in Takoma Park.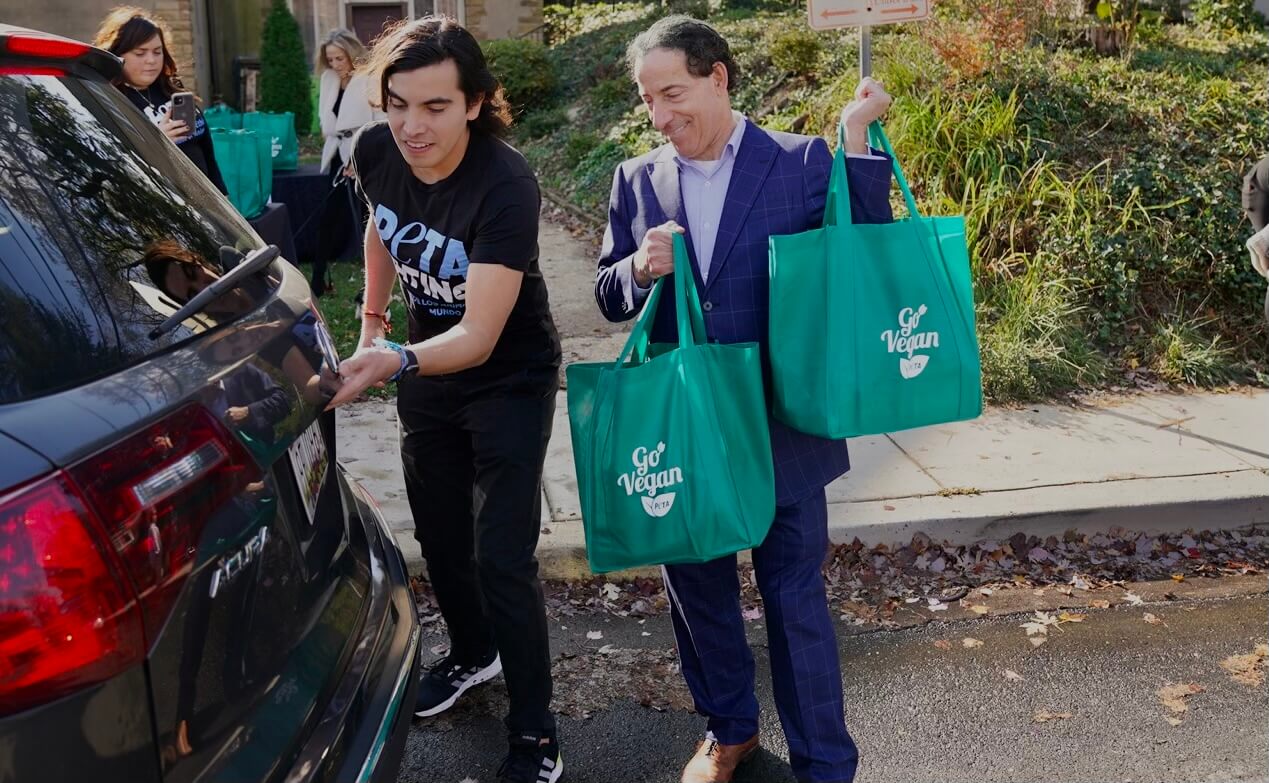 "It brings our family a lot of joy to be part of this collaboration between Tommy's Pantry and PETA to share a beautiful vegan Thanksgiving option with people in our community," said Raskin. "More and more Americans are eating sustainably while caring for animals and the planet, thanks to initiatives like ThanksVegan from PETA and Tommy's Pantry. It's a great pleasure to start the holiday season this way."
PETA and Raskin's ThanksVegan food distribution followed news of record-breaking judicial progress for tormented turkeys. Twelve former workers of Plainville Farms, a self-described "humane" turkey supplier to major grocery stores, were recently charged with more than 140 counts of cruelty to animals following a PETA investigation—the most charges in any case of cruelty to factory-farmed animals in U.S. history.
Turkeys raised for food are normally slaughtered when they're between 12 and 26 weeks old—and more than 45 million turkeys are killed each year for Thanksgiving alone.
"Rep. Jamie Raskin has always been a friend to those in need of a helping hand, and we are delighted to join with him in assisting local families by providing healthy, vegan Thanksgiving meals," said PETA President Ingrid Newkirk. "PETA encourages everyone to leave gentle turkeys off their plates this holiday and every day."
CELEBRATE THANKSVEGAN

We teamed up with @RepRaskin & @tommyspantry to pass out delicious #ThanksVegan roasts and more to folks in Silver Spring, Maryland.

Leave gentle turkeys off your plate this holiday season pic.twitter.com/iD7XWuYLE0

— PETA (@peta) November 12, 2022
Celebrating ThanksVegan at Home
Having a wonderful ThanksVegan at home is a compassionate and fulfilling way to embrace holiday tradition. Most supermarkets stock a variety of animal-free options at wallet-friendly prices—from dairy-free butter to vegan turkey roasts—so swapping ingredients is a snap.
PETA's ThanksVegan guide will help you cook the meal of your life—whether you're hosting, traveling, or hunkering down at home for a small-scale feast, we've got you covered.