Why should lions, tigers, zebras, and other animals be shoved into cages, dragged around a noisy and congested city, and abused under the pretense of "entertainment"?
They shouldn't be, but they are—and it needs to stop.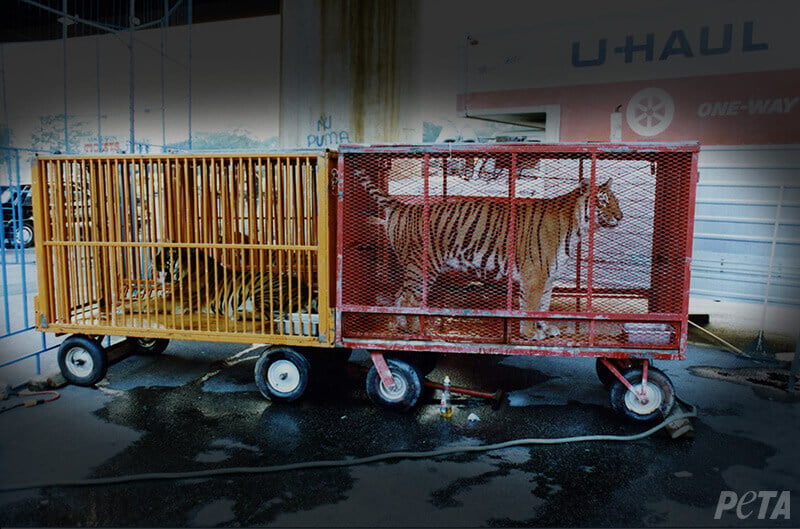 That was the message of three costumed "tigers" and dozens of PETA members, supporters, and compassionate citizens who rallied outside Los Angeles City Hall on Thursday to urge lawmakers to introduce a bill banning the exhibition of wild animals in the city.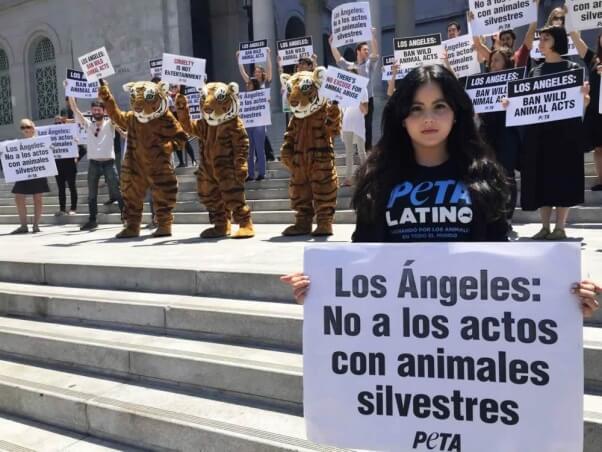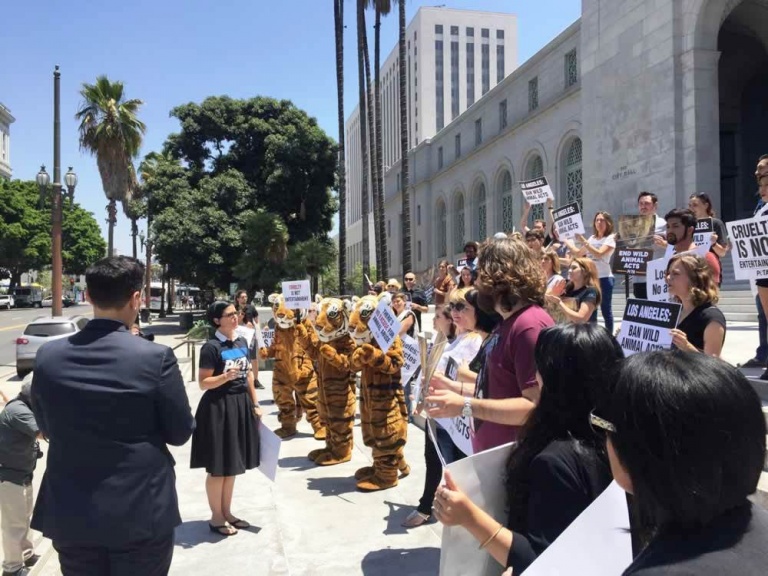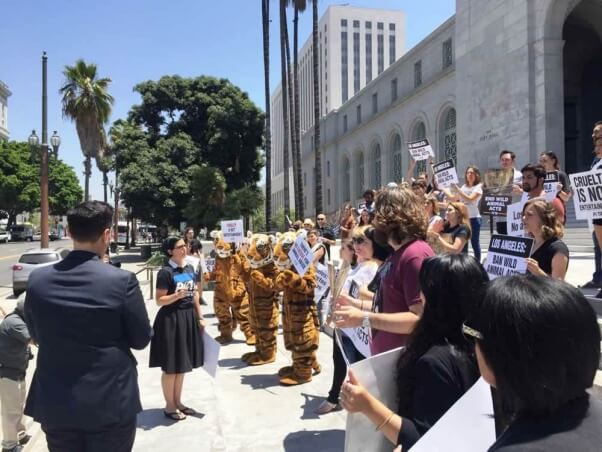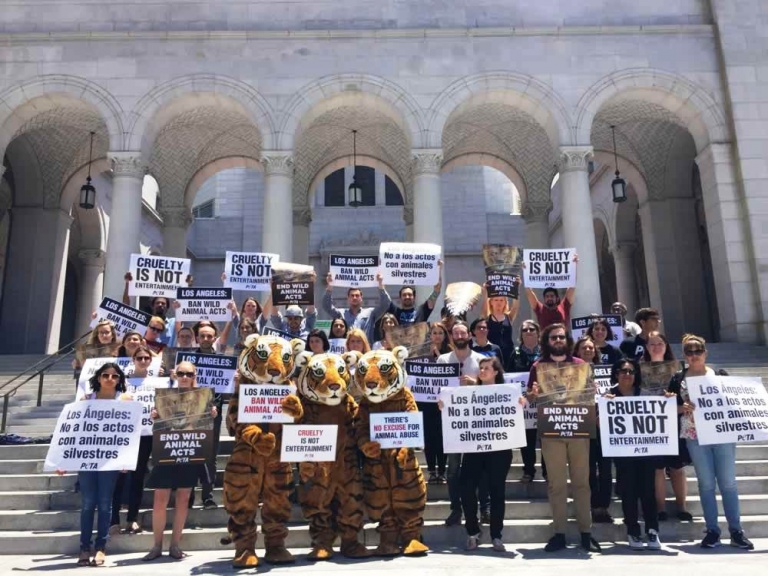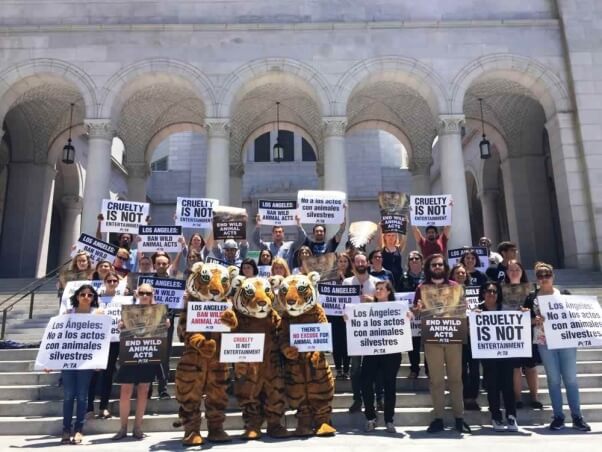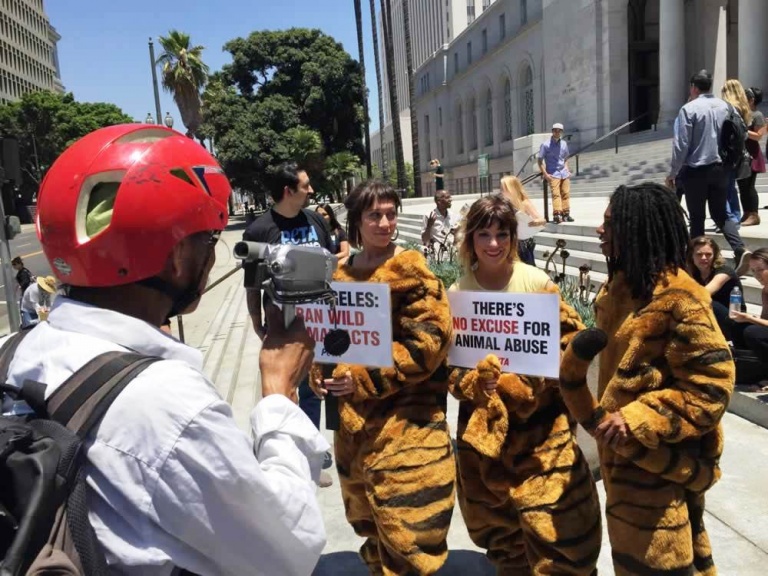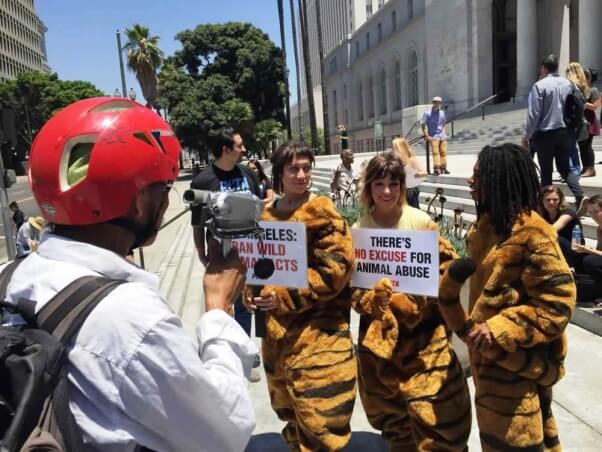 Los Angeles showed why it's called the City of Angels—and set an example for other municipalities around the country—when, in 2014, it banned the use of bullhooks (heavy batons with a sharp steel hook on one end that trainers use to beat elephants and force them to perform). Los Angeles' bullhook ban, as well as bans passed in other cities, helped persuade Ringling Bros. and Barnum & Bailey Circus to end its elephant acts.
Now it's time for the city to take the next step. By banning the use of wild animals in circuses and other exhibitions, it would join San Francisco, West Hollywood, and Huntington Beach, California; Plymouth, Massachusetts; and dozens of other forward-thinking municipalities that have passed similar bans in condemning such exploitation.
Animals who are used in circuses and traveling shows are typically torn from their mothers as babies and confined to barren cages and boxcars when not performing. They are forced to perform under threat of punishment, such as beatings, whippings, or shocks with an electric prod and often suffer from chronic health problems and psychological disorders. Many die prematurely.
A ban on displays of wild animals would eliminate the risk that they pose to the public and would send a strong message that the cruelty inherent in businesses that exploit animals is not welcome in Los Angeles.
What You Can Do
Urge your local lawmakers to ban the exhibition of wild animals, and tell your family and friends why they should avoid any circus or traveling show that uses animals: Purchasing a ticket is a tacit endorsement of animal abuse.