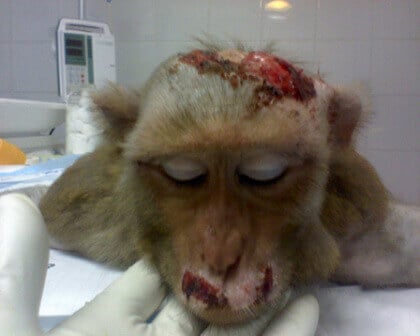 Think experiments on animals are funny? Thomas Clarkson, a veterinarian at the Wake Forest University School of Medicine who conducts invasive experiments on monkeys, seems to think so. At the National Institute on Aging (NIA), he used "humorous" stock primate photos in a PowerPoint presentation about invasive menopause experiments on monkeys.
One of the photos in the presentation, which was abruptly yanked from the NIA's website after it was criticized by several bloggers, shows a small monkey wearing oversized Mr. Magoo–style glasses—as well as a telltale chain around the neck. Another photo shows an apparently frightened baby orangutan, mouth agape, next to the thought bubble "I just don't know what to think."
Well, we do know what to think, but we probably shouldn't say it on a family website.
But those aren't the only photos that Wake Forest needs to justify. Remember the gruesome photos that we showed you a few weeks ago from monkey slave trader Primate Products, Inc.? Turns out this is where Wake Forest obtains some of the monkeys it torments in its experiments. In light of the damning photos, we have asked Wake Forest to sever all ties with Primate Products, but a spokesman told a reporter that the university isn't planning to dignify our request with a response. Guess that shouldn't be surprising coming from a place that uses federal stimulus funds to hook monkeys on cocaine and employs a vet who apparently thinks that torturing monkeys in experiments is funny.
Written by Alisa Mullins