OK, so admittedly I'm not the world's biggest fashionista, but even I know that Prada is a big deal in the fashion world. Like, the biggest deal there is. So this is just beyond incredible.
Amazing clothes—no fur. Love you Ms. Prada.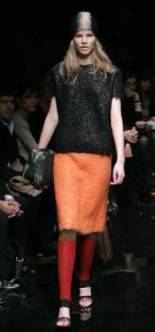 Not even 24 hours after a PETA Europe member disrupted the Prada fashion show at Milan Fashion Week, and less than a month since PETA reps showed this video to Prada execs in Milan, the mood has swung 180 degrees and founder Miuccia Prada received a bouquet of roses from PETA Europe this morning. The sudden about-face happened because, for the first time in decades—yes, I mean literally decades—there wasn't a single fur item in Prada's fall/winter collection. And check this: Miuccia Prada herself said that she is "bored" with real fur. It seems that Prada has finally realized what we've been saying for years, that designing with fur is unimaginative as hell, not to mention cruel.
Prada's new line is called "Fake Classic"—I love it. Check out this incredible orange faux-fur coat. I guess this is what "Fake Classic" means.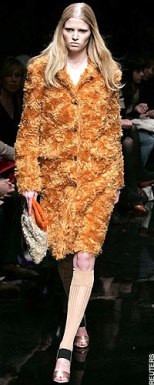 Prada's announcement is making headlines worldwide, but my favorite one so far is from a huge paper in Australia: "Animal liberationists scored a victory today when Milan's style matron, Miuccia Prada, proclaimed she was bored with fur." Are we on a roll or what? We finished up last year with heavyweights Kenneth Cole, J.Crew, Ann Taylor, and Ralph Lauren going fur free, started this year off with a bang with the Marc Bouwer show, and now this amazing news from Prada.
It all just makes Burberry seem that much more out of touch.