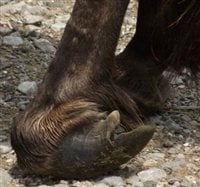 It only takes one look to see that the pony below desperately needed help, but whenever authorities were called out to check on this miserable horse, they inexplicably found "no issues" with his condition and left him to suffer at the hands of his neglectful owners.
The pony was so malnourished that every rib jutted out, and his hoof was so grossly deformed (possibly from an untreated broken bone) and overgrown that it had folded under, forcing him to hobble around. The pony's owners left him to wander the streets and routinely took off for days at a time, leaving him to fend for himself. He had no food, no water, and nowhere to escape the elements.
Thankfully, when PETA and a wonderful local rescue group got involved, the owner quickly agreed to surrender the pony. His overgrown hoof was immediately trimmed, and he was adopted into a loving home within days!
If you've tried to get help for a neglected or abused animal to no avail, don't give up. PETA can often help when no one else can—or will. If you aren't getting anywhere with local authorities, please contact PETA. You may be the only hope for an animal in an otherwise hopeless situation.
Written by Lindsay Pollard-Post