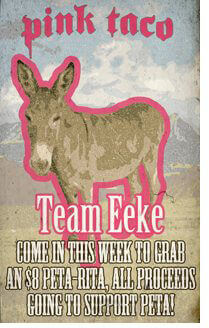 Remember the pink donkey? Well, not only has Pink Taco restaurant owner Harry Morton agreed never to pull such a stunt again, he has come up with a festive way to make amends. From now through May 15, patrons of the Century City, California, cantina can order a special margarita, the "PETA-rita," with 100 percent of the proceeds going directly to PETA's campaigns against animal abuse.
Another L.A. eatery, The Spanish Kitchen, is holding a "Defend the Donkey" fundraiser tonight that features a vegan prix fixe menu with all of the proceeds also going to PETA.
Even if you don't live in the L.A. area, you can still donate to PETA. Or you can have your own "PETA-rita" party and ask your guests to make donations for every concoction you whip up in honor of Pinky the donkey.

Written by Michelle Sherrow