Photo of the Day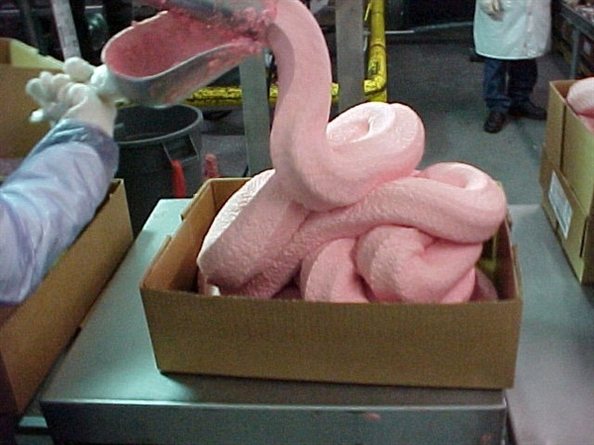 Gizmodo
What you're looking at is not a newly discovered pink Burmese python or the material used to make lawn flamingos. It's actually something edible (and I use the term "edible" loosely).
This is actually mechanically separated meat, the main ingredient in many commercial chicken nuggets (and the companies use the term "chicken" loosely). The picture has been circulating around the Internet for a while, but it's still creating buzz because it shows something we rarely see.
It's made by sending animals' bones through a machine that scrapes off the last bits of flesh and blood and smashes them together to form a paste more nausea-inducing than the kind you ate in kindergarten. The paste has to be soaked in ammonia to kill the bacteria, the "chicken" flavor has to be added to it, and the whole mess has to be dyed so that it no longer resembles, well, a big bloody log of unidentifiable animal bits.