When PETA India Science Policy Adviser Dr. Chaitanya Koduri and his wife, Vidya, found Laila, she was a terrified puppy alone on the streets of Mumbai. But after the couple welcomed her into their home, giving her the care and affection that every dog deserves, Laila blossomed into, as Dr. Koduri describes, "this beautiful, naughty girl who will never get tired of playing. She needs to put her nose into anything and everything."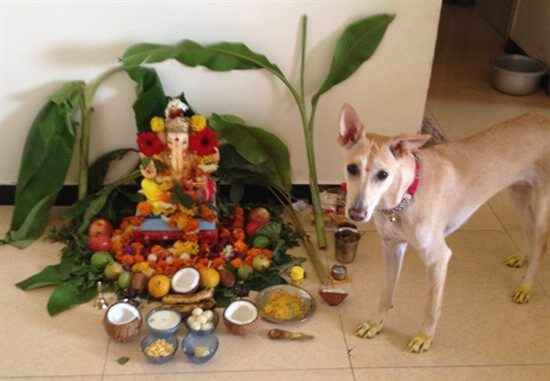 As you can see, Laila—showing her paws decorated with golden turmeric—gladly joined in the family festivities on Ganesha Chaturthi, which celebrates the birthday of Lord Ganesha, the Hindu deity with the head of an elephant. 
What You Can Do
As Laila's story shows, people who offer homes to animals in need not only save those animals' lives but also fill their own homes and hearts with boundless love. Please never buy from breeders or pet shops—always adopt.