People who went to the Outdoor Retailer expo in Salt Lake City today, the largest of its kind in the country, got an eyeful as a PETA member dressed as a giant 8-foot-tall half-plucked goose ruffled some feathers to expose the cruelty behind the down industry.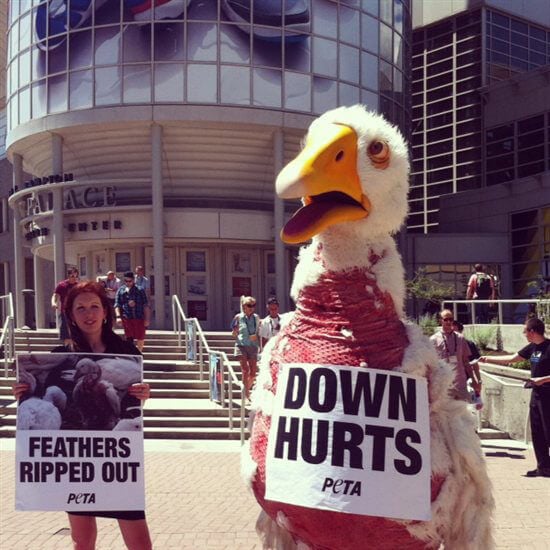 People entering the expo were horrified to learn that in order to produce down clothing, pillows, and comforters, birds are often pinned down or lifted by their necks or a delicate wing and have their feathers painfully ripped out while they are alive and able to feel pain. Alicia Silverstone offers a behind-the-scenes view of the down industry in this PETA video exposé:
https://www.youtube.com/watch?v=nYHaJoZhBDM
Being a friend to our feathered friends couldn't be easier when down-free alternatives are readily available—just check the label for synthetic down, down alternative, polyester fill, or high-tech fabrics such as PrimaLoft® and Thinsulate™.
Make the down industry's feathers fly by taking these five quick actions against down!